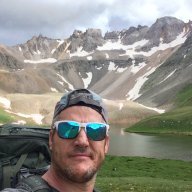 Joined

Mar 1, 2016
Messages

401
Over Labor Day 2016 I had the pleasure of going backpacking to the beautiful Dead Horse Lake in the Uintas with a nice group of people. After reading great trip reports from
@Nick
and
@DrNed
i was excited to see dead horse lake in person, climb over the great dead horse Pass, and explore the upper rock creek drainage. We started at the West Fork Black Forks Trailhead. This is the river crossing before the trailhead.
From the trailhead it is 10 miles to dead horse lake. We went in 9 miles and found a good spot in a beautiful meadow.
Camp in the meadow
Day 2 my plan was to check out beautiful dead horse lake, climb over the infamous dead horse pass, and explore the upper Rock creek drainage. After seeing pictures of reconnaissance lake from Cordell Andersen I knew that I had to go and visit that this beautiful lake for myself and explore the beautiful upper rock creek drainage.
View of dead horse pass from dead horse lake
The group went with me as far the top of dead horse pass.
View of dead horse lake from dead horse pass.
After that I was on my own. I first wanted to go and check out continent lake.
View of continent lake
I tried casting on continent but no luck. I took a nice rocky shortcut over to reconnaissance.
View of Shortcut
The lake was beautiful but the weather was off and on rainy all day. I had planned to try and fish at reconnaissance but the wind and rain picked up so I didn't have a chance to try any fishing.
Views of reconnaissance lake
The views in upper Rock creek were incredible after the rain stopped.
View of triangle mountain
By the time I got over to the beautiful ledge lake I was racing a big storm coming in and thus didn't get a chance to try any fishing at beautiful ledge lake either.
View of ledge lake
I hoped I could get back over dead horse lake before the storm hit. This did not work as planned. I had to lay up and take cover under some rocks to wait out the storm. It started hailing with some lightning. One of the Lightning strikes sounded pretty close and looked like it hit Just on the other side of dead horse pass. That was a little exciting and certainly a good time to start praying for safety. Storm blew through quickly and I was able to hike over dead horse pass without any further excitement.
View after hailstorm and lightning
Views on both sides of dead horse pass were incredible after the storm.
View looking south
View from top of dead horse pass looking west
I got down to dead horse lake and figured I would try my luck fishing there before heading back to camp. I took one cast and discovered that I had lost the handle to my new reel somewhere on my journey today. Thus my fishing for the trip was a bust but that's okay. The views more than made up for the lack of fishing.
View of dead horse lake and dead horse pass after the storm
Day two involved a beautiful 15 mile hike.
Day three red knob pass was calling me from the meadow. It looked like we were going to have another day of rain and hail. No one else in the group wanted to go for a hike due to the weather so once again I set out on my own. In getting over to red knob pass I got to admire the sights and sounds of a large flock of sheep.
View of red knob pass
Before hitting the pass I had to sit in a small group of trees to make sure the snow/hail wasn't going to be accompanied by lightning. Once it poked clear I headed up red knob pass and took in the beautiful views on both sides of the Pass with the recent snow/hail it was a beautiful scene.
View looking back at dead horse lake and dead horse pass in the snow/hail
Easier to see dead horse lake in this one after the snow/hail has stopped.
In getting back to camp there was still time to explore while others fished/napped. Now allsop pass was calling me. Once being called by a beautiful pass I had no choice but go follow the call. So off to look at the views of beautiful Allsop lake from the top of the Pass.
Allsop Lake
Yard Peak above allsop lake
View of Ejod Lake on the way over to dead horse. Red knob is on the far right.
Then being a Sunday I decided it would be a good idea to find a beautiful spot above dead horse lake where I could read something uplifting.
View of my reading spot at desdhirse lake.
The rain finally stopped. I was able to sit down on a rock and take in the beautiful views. I read some great articles out of the Ensign magazine from my perch above the beautiful dead horse lake. What a beautiful and inspiring place. I was grateful for the opportunity to be out in the mountains admiring God's beautiful handiwork.
Shot of stream between dead horse lake and camp
Upon getting back to camp I had hiked 12.5 miles today.
Day 4 we woke up and hiked out the 9 miles to the the trucks. West fork blacks fork is very beautiful.
Bucks pasture is very inviting and looks like it would be a nice place to fish. Another great trip in the Uintas. I love going and exploring new places.