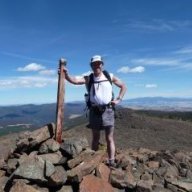 Joined

Aug 17, 2015
Messages

29
I guess that I've re-discovered the Tobacco Roots. I've been to the popular Lost Cabin and Louise Lakes a few times, but not for five years or so. From my home in Helena, a trip up the South Fork of the Boulder River is at least 80 miles. I decided to spend a few days before summer's end exploring trails that I haven't visited. Just today, the Bozeman (MT) Chronicle published an article on the Roots.
After trips to Curly Lake from the Creek and Lake Trails, I though I'd visit Rock Creek Lake. First, it saves a little driving time because it's good road to the trailhead. Otherwise, three miles can take a half-hour on rough road. I've hiked a bunch in Glacier National Park (east side), and I can't tell you how much the Roots remind me of Glacier. Actually, many of the the peaks surpass Glacier's in altitude. The country looks the same, down to the prime bear country. I pack bear spray since ran into a black bear in the Belts out of Helena this summer. Way too close!
Anyway, I thought I'd post a few pics to share the country! I'll just go in order up to the lake, which isn't much of a lake this time of year in a dry year. We just had our first accumulating snow in the high country Friday.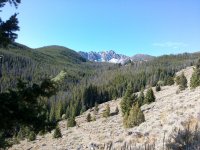 I think this next shot is Hollow Top, highest peak in the Roots.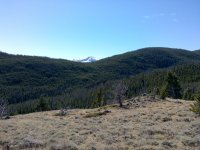 I warned you, not much of a lake.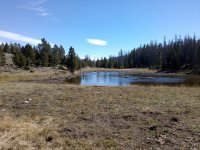 Better shot of Hollow Top on the way down.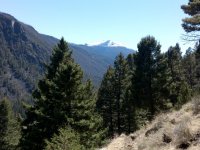 I capture the pics with my Garmin Oregon 650 GPS, at 5MP of the available 8. The problem is that it's damn near impossible to see the screen clearly while your framing your shot. Most are just a decent guess. I try to tuck into a shady spot to do the best that I can.
I mean to get into the North Meadow Creek country that John Goering described in a few posts, e.g.,
http://backcountrypost.com/threads/tobacco-root-mountains-north-meadow-creek-2015.4893/
. It's a bit farther, but I have to get to different places. Helena's v a hiker's paradise, and I'be done every trail in the Elkhorn Mountains, which are almost out my front door. Hope you enjoy the pics.
Jimmy