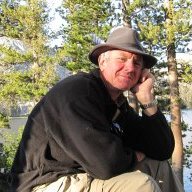 Joined

Sep 30, 2014
Messages

665
This weekend we visited Yosemite with a visitor from Italy--one who wasn't sure she wanted to spend the night in the wilderness---so we took her on a few day hikes. And had a wonderful time. That's Taft Point and El Capitan below
Admittedly, the waterfalls in Yosemite are barely trickles right now. Yosemite Falls is bone dry, as you can see from the photo below, taken from Sentinel Dome:
Bridalveil is merely moist. Nevada and Vernal Falls are tiny. But there are other things to see in Yosemite, and we did. We hiked up to Sentinel Dome (is there a better bang for your buck than this one-mile hike?) and then on to Taft Point and the Fissures. The next day, we hiked Happy Isles and then took the Valley Loop trail to go around Mirror Lake, up to the bridge across Tenaya Canyon, up Snow Creek for a bit, and then back to the shuttle bus. And while the Valley was crowded, it was amazing how few people were actually out hiking these trails. The meadows were golden in the sunlight
Goes to show---get our of your car, get your feet on the trail, and you will get away from most of the crowds.
Gotta end with the classic shot of Half Dome