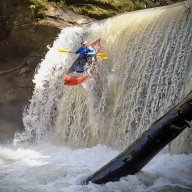 Joined

May 3, 2013
Messages

560
After 2 days of harrowing travel...epic snows in Colorado, rain, wind, cold, Kansas...we made it to Escalante and enjoyed our cozy cabins at the Outfitters. This trip was a bit more swanky than usual, I typically car camp and backpack my way through the desert without a shower for a week or 2. This time I smelled pretty good for most of the trip. Weird. The Boulder Mountain Lodge even has robes. I've never worn a robe. I felt like I was cheating.
3 friends from Kentucky (and a dog) decided to join me on my trip this year, the pictures and tales of past adventures were too much to pass up. It had been at least 8 years since my last trip to the Grand Staircase-Escalante NM, and this one was going to be special. A week of guiding friends around my favorite places, and some solo time to finish it off.
Our plan was a 4 day backpack into Death Hollow, but we had a rest day before jumping in. I decided on Upper Calf Creek, those pools and short hike are a great intro to the area. Weather was shaping up to be perfect...at least for the next 5 days. We got lucky.
Getting their desert legs. Descent into Upper Calf Creek.
Upper Calf Creek Falls. Lowest flow I've seen this time of year.
Magical pools above the falls
Soooo good to be back here...
Above the falls
The Kentucky Crew.
The next day we drop off the grid and enjoy 4 days of perfect conditions on the BMT into Death Hollow...TR coming soon...
Featured image for home page: