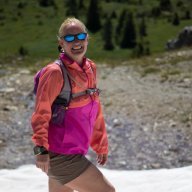 Joined

Dec 30, 2015
Messages

194
Duncan and I headed out with 5 others for the first backpacking trip of the year. Technically it's spring but we may have pushed the weather a tad.
Davis Meadows is near Buena Vista, Co and is an old logging camp. Multiple original log cabins remain in varying states of disrepair.

It was a short two mile hike in and we had snow flurries when we got to the meadow. It was to warm to stick but chilly for setting up camp. We set up and took off on a day hike that lead to these amazing views.
Then the sun came out and we relaxed. Duncan took an nap as he had now hike 7 miles...a new record for him.
Then the sun went down and it got cold quick. Duncan doesn't like the cold so I wrapped him up in my EE quilt and he was toasty warm.
The next morning ice covered the inside and outside of my tent. I made coffee
In bed to warm up.
As the sun came up we broke camp and headed home. Big adventures make for tired puppies
I couldn't have been happier with how Duncan did. As the temperatures warm up I see lots more adventures ahead for us.
Sent from my iPhone using Tapatalk