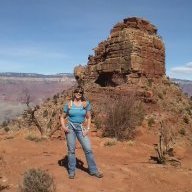 Joined

Oct 1, 2012
Messages

957
If anyone doesn't know, David Muench has blown me away with his photos since I first opened a Sierra Club calendar at age 15 or so. I worship the ground he photographs. So I was amazed when I began to seriously learn photography that I could take a workshop with him. I took my first one in May 2012 when I could barely use my camera, and it was a fantastic experience. When I found out that he was having an autumn workshop in Zion National Park, I signed up a year in advance.
The workshop was scheduled for November 7-11, but I was jonesing to get up there so badly, and when I read that Bryce Canyon was supposed to get snow the weekend before the workshop I had to get out of town ASAP. First I had to buy a car, since my current car was held together with duct tape and had 308,000 miles on it and had no heat, among other things. I definitely didn't want to be in Bryce Canyon in snow without heat! I bought a 2012 Escape with AWD-woohoo, my first AWD car! The first thing I did was affix my Backcountrypost sticker-I was ready to go!
I got to Bryce Canyon just in time for the snow. It only got a dusting, but the light was still beautiful:
At this point I wasn't really happy with my photography and felt like I was in a creative rut. I was really hoping the workshop would help me break out of it, and I was looking forward to the fall colors, which hadn't yet started when I last saw Zion October 19. Imagine my disappointment when I got there and saw that it was practically barren, or so it seemed. I went into the Narrows because the colors there seem to last longer than in the valley, but it was barren as well. That turned out to be a blessing in disguise because I made good time up to Wall Street, which I don't usually do because I am always stopping to take pictures of trees! I got there just in time for the wall glow:
Even though I was happy with the way they turned out, I still felt like I was taking the obvious shots. Later that day, before the start of the workshop, I ran into David Muench at the local coffee shop. I told him I was excited for the workshop but disappointed we missed the colors, and he told me there was still some color in pockets. I was skeptical, but headed back out into the park. I realized he was right-where I was only seeing barren trees, he found beautiful cottonwoods in just the right light. I found some of the pockets he was referring to:
The workshop started and I was amazed by the caliber of photographers there. I got a lot of really good feedback on my photos and learned a ton, both compositionally and post-processing. Even better, I felt like I was finally out of my creative slump and seeing things differently. We had several field sessions, and it was amazing to see what David could pull out of a scene, and how he saw things. Some photographers have workshops where they point out what to shoot, but the really good ones encourage you to develop your own eye while giving you tips on how to get there. Getting feedback from someone with a master eye is priceless. We shot all day, broke in the middle for critiques, then back at it. It was intense, exhausting, and something I'll never forget.
I went off on my own and went to Water Canyon, hoping for some leaves on the trees. No luck, and not much water, but there were still some pretty scenes:
On my way out I came across some teenage boys dressed in the weird pioneer style of Hildale. The younger boys wouldn't look at me, but the older ones said hello. It was obvious they were told not to talk to outsiders. About a 1/2 mile later I came across a little boy who was crying. When he saw me he got fearful, but I asked him what was wrong and where his mom was. He told me those boys were his brothers and they had left him behind on the trail, and he couldn't find his way out. Well, I couldn't leave him there, but he couldn't tell me where he lived, couldn't even tell me what town. I finally confirmed my suspicions that he lived in Hildale, but he didn't know his address, his phone number, not even his own age (which looked to be about 7). He told me his mother lived in another state, but he didn't know which one. He said he could tell me how to find his house so I told him I would drive him there.
A few weeks ago I made a comment on this forum about getting chased out of town by wacko Colorado City sheriffs, but now I was hoping a sheriff would follow me so I could turn this boy over to him. He got in my car and he told me what turns to take, but it was obvious he wasn't sure where he was. I asked him where he went to school and he said his mom taught him-yikes, I've never met a kid who didn't know how old they were. He didn't have any basic education at all-he may not have known his address because he was illiterate. We drove around Hildale, with me being afraid someone would see him in my car and think I was abducting him, but he couldn't find his house. At this point I had to call the sheriff's dept., not knowing what I was in for. They sent out a deputy who turned out to be related to this boy-they even looked alike. The deputy was very nice, no worries there. I turned the boy over to him and headed back. Later I looked up this boy's name and found that half the town has his last name-he was from one of those enormous polygamous families. Weird experience......
Back to the workshop and more field sessions:
So which one of my photos
did David Muench like best? No surprise, this one I took in Water Canyon, which was inspired by a photo
he took in Neon Canyon:
I'm still in Zion as I write this, taking in the whole experience. I think this is one is going to stay with me for a long, long time.
Post script: after I posted this report I went and just goofed off. No tripod allowed! I got this-kinda artsy-fartsy but I think it works:
Featured image for home page: