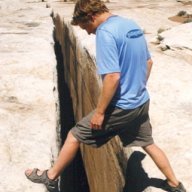 Joined

Mar 29, 2012
Messages

38
My 22 month old daughter has been in the San Rafael Swell before but last time we stayed in a hotel in Green River. I've been wanting to get her out camping for a while now and it just hasn't worked with the schedule. On Saturday, May 18 (after snowboarding 10 inches of fresh snow at Snowbird!!), just her and I headed down to the Green River Cutoff Road to find a random spot. My wife stayed back for a well needed break.
We got down there from SLC about 6pm and didn't see any other cars or people in the Swell that day. I set up camp, the bed (back of the Taco) and the fire before eating some grub and walking around camp. She enjoyed the freedom, her first campfire and her first smore. We hit the hay about 10pm after the wood was out and after about 15 minutes of confusion, she started settling down. She rocked it and only had a period from 2am-3:30 that was a little rough then slept through 9am. For her in a new environment, that is pretty solid so I was stoked.
Next day, we took off down the road to the Wedge Overlook which after years and dozens of visits to the Swell, I had never been to. Enjoyed the good views along the way of Cedar Mtn. After hanging out at the Wedge for 20 minutes, we started heading back to SLC. I didn't bring any maps on this trip for some reason (I always do) but luckily my iPhone worked almost the entire time. Instead of going the safe way through Huntington or Castledale I chose a more direct line on my maps app and ended up where some less adventurous people would be freaking out. Through cow herds, barbed wire gates and over 4 wheeler mounds I got to the town of Cleveland thoroughly impressed with the navigation.
Definitely a successful short trip and one to be repeated very soon but in a different location.
Untracked spring pow - it was what I imagine owning your own resort would be like. I had an entire pow run untracked to myself with not another soul on Chips Run - 3000 feet.
Google Maps did a good job IMO
Featured image for home page: