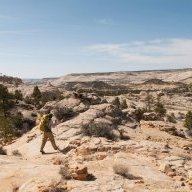 Joined

Mar 4, 2012
Messages

100
Rain and snow were forecast nearby for the entire weekend, but we gambled on reasonable weather below the rim of Dark Canyon and enough breaks in the weather to wander up and down canyon and see the best of Lower Dark. We were a group of four and spent four days, three nights below the rim. I had been in the Lowest sections of Dark on a Cataract float in the fall of 2014, and was determined to get back and see more. There is still more to see in the upper tribs, so I do believe that an early summer trip is going to happen back there this year as well.
The Sundance Trail into Lower Dark Canyon was steep and sloppy as expected, but behind us quickly. A number of Claret Cup Cacti blooming on the way down.
We set camp Thursday night upstream of Sundance junction with Dark Canyon, but short of Lost Canyon. Night was clear and calm. We had a nice spot, but we later discovered prime spots at Lost Canyon upstream of us, and also at Lean-to Canyon below us, but we were not compelled to move.
Friday we explored up Dark Canyon with our sights set on Youngs Canyon. We had a late morning start and wandered slowly up canyon examining the many red fossil shells and crinoids in the limestone along the way. Deep pools and pour offs forced high bypasses in a few places and eventually the rain caught up with us, but was really no bother as we took our time and found a nice overhanging shelter for a long drizzly lunch. We turned back short of Youngs, due to time and weather concerns, but saw a lot of lovely canyon.
We tucked in for a damp night and and it blew and drizzled all night. Sleep was sparse with roaring gusts moving down canyon. After another late, lazy morning we started down canyon for El Rio Colorado. Limestone canyon floor, lofty bypasses, more pools and pour offs, a short climb to an interesting cave, and a colony of jumbo mushrooms in Lake Powell silt kept the walk interesting.
We made it to the bottom of Dark and lunched on a sand ledge above the Colorado, but there was much mud. The final reaches of the stream run through a clay bed channel and the water and mud are unavoidable, but the setting is unforgettable; so we trudged through to our lunch perch in Cataract Canyon.
It was back out the Sundance on Sunday with a long pause on the rim to say goodbye to a lovely place. I'll be back to this one. Not a hike for beginners due to some exposed traverses, and a challenging entry an exit, but if you can manage those issues, the Sundance trail gets you into some really nice canyon.
Last edited: