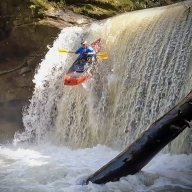 Joined

May 3, 2013
Messages

545
I discovered the non-profit
Wilderness Volunteers
a few years ago, but at the time work schedules and my annual 3 week solo trips to Utah kept me booked up.
I quit my corporate gig back in March of 2016, freeing me up for planning the backlog of trips on my list. I've been interested in volunteering before in GSENM eradicating Tamarisk and Russian Olive and almost jumped on that trip last year but then I saw my holy grail...a canyon I've always to see, combined with archaeology and volunteering with the USFS, Monticello District. Archaeology is a passion of mine, and I was going to learn how to inventory a site from start to finish and maybe find some cool stuff along the way. It exceeded my expectations.
http://www.wildernessvolunteers.org/project/201744/Dark+Canyon,+Manti+LaSal+National+Forest.html
I drove out from Kentucky in late September, slowly making my way to Monticello by sampling microbrews in every state. Who knew Kansas had good beer? Anyway, after a night with a friend on Grand Junction, CO I headed to Monticello to meet the WV crew. At first I was surprised that at 41 I was the youngest pup there by far other than 2 seasonal archaeologists and the trip leaders son. It was a mix of Wilderness Volunteer veterans and a few first timers, 2 lead archaeologists and 2 seasonals. Everyone was great, we shared stories around the campfire, I got plenty of tips from desert veterans on places I've wanted to explore, and we ate like kings. This was a pack animal supported trip, we didn't have to carry the food down the 6 miles of Trail Canyon, only our personal gear. We were lucky that the pool near our camp was full of clear water, I heard horror stories from previous trips of carrying muddy water each day a half mile back to camp and eating silty soup. No thanks.
The weather was good for the first 4 days but then we heard from the rangers at the Monticello HQ that bad weather as coming in...decision time. The horses had to get back in and haul the kitchen and food out and needed dry ground. We debated and decided to bail a few days early instead of risk getting stuck without food. This is a very remote area, the access roads are dangerous when wet.
Each day we broke off into groups, each with an archaeologist. The sites had been discovered and surveyed but left alone. We were there to help inventory lithics and ceramics, mapping the boundaries, GPS'ing the sites and learning how to identify types of lithic scatter as well as potsherds. I was in heaven. The head archaeologist, Don, toook me under his wing and by the time the trip was over I was already scheming how to get back and get on their survey crew, and helping with office work like creating GIS maps from backlogged projects.
My crew found and surveyed a 6000 year old lithic scatter site which appeared to be a hunting camp. Others found sites with lots of ceramics, others explored and looked for new sites. This area is rich in Ancestral Puebloan sites, you can't pee and not hit one. I was able to map, document and write up the results from our inventory at our site and we wrapped it up with some good finds. This was the trip of a lifetime, and I'm heading back in 2017 to the same area for more.
I won the Wilderness Volunteers photo contest, a free trip to any project of my choice ($300). After the Dark Canyon trip next September I'm staying for another week long trip on Cedar Mesa doing trail work with a different WV crew in early October.
Winning photo...
http://wildernessvolunteers.blogspot.com/2016/12/announcing-winners-of-wv-2016-photo.html
Trail Canyon
Elko Corner Notched Point I found.
Pinto Point. Possibly as old as 4000 years...
Dark Canyon. Miles above the BLM managed part, deep in the USFS Wilderness.
Granary. On our 3rd day we documented the condition of some well preserved granaries.
finger prints...
From another random site, on a random bench...this stuff is everywhere.
Team Indiana Jones
Trail Canyon trailhead
This trip was a tease. I can't wait to explore more of this area, especially the lower BLM lands downstream of Youngs Canyon to the river. There is a lifetime of adventure down here, and I can't speak highly enough about the Wilderness Volunteers. I was invited to be a Trip Leader and go through the training in Idaho in May 2017, but I'm going to think on it...probably do it in 2018 and start leading trips. Look 'em up, they have trips all over the country.