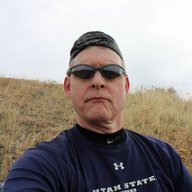 Joined

Dec 23, 2013
Messages

1,619
I was supposed to be exploring Coulter Creek in the Teton Wilderness over the weekend, but a forecast of snow for four days scared me away. Instead, I woke up this morning and decided to hike up an underappreciated peak in the Wasatch - Dale Peak. It's been over five years since I last hiked up Dale, and since I had to pick my daughter up in the early afternoon from school, this seemed like a good time to revisit and to fit my schedule.
Dale Peak is located along the east side of Parleys Ridge with Parleys Canyon on the south side of the ridge and Emigration Canyon to the north. The trail is actually an old Jeep road that follows the crest of the ridge for the majority of the hike, with quite a bit of up and down to it. Once you get to the base of the peak, it becomes a single track all the way to the top. Since I wasn't sure if the deer hunt here in Utah was in full swing yet, I wore my trusty Scatman Orange for this one.
The ridge to the north is the southern ridge of Red Butte Canyon with Mount Wire on the western end.
My destination - Dale Peak with a touch of morning sunlight on the summit
Grandeur Peak to the south with a skiff of snow up top
Looking west along Parleys Ridge
Old Jeep road and the Salt Lake Valley in the distance
Ended up on a game trail heading through this.
Argh!
Popped back out of the scrub oak and back onto the main trail with Dale and Grandeur Peaks in view
A little bit of fall color left. Little Del Reservoir in the distance
View west along Parleys Ridge with Perkins Peak (high point along the ridge)
Mount Aire along the Millcreek Ridge
I-80 heading towards Parleys Summit
Scatman Orange - with Grandeur Peak and Triangle Peak even further south.
View looking back east on my way down - the road back to my Jeep
Not much red on this hike, but this small maple stood out
It looks like the old Jeep road is heading straight for the conifers
The lonely Jeep waiting at the trailhead.