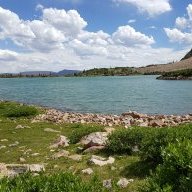 Joined

Aug 8, 2016
Messages

2,040
As you might know I've been learning to deal with a problem knee all this summer. After some cortisone injections and some moderate improvement I was feeling like I might be able to do a multiple day backpacking trip. However, I was worried that I might get into the back country and wake up the next day with a non-cooperative knee and not be able to get back out. To find out I planned a day hike of sufficient mileage after which I could see how I did the following day.
I'm always on the look out for new routes into the interior of the Uinta Mountains, particularly lesser traveled ones. Looking at several maps I discovered the Dahlgreen Ridge trail which runs atop the ridge west of Henry's Fork. Paralleling nearby was the Big Meadows trail. I looked like a possible out and back loop of about 13 miles and an opportunity to see some new country.
I arrived at what I had thought was the Dahlgreen Ridge trail head at about 6:00am. I say "I thought" as it turned out to not be the trailhead. This would be a very costly mistake in terms of miles traveled that day. I headed down the primitive road from the parking area which seemed like it could be the trail marked with a sign indicating motorized vehicles were prohibited but did not explicitly say "Dahlgreen Trail". I have navigated difficult trails and several off-trail routes using my InReach in times past but I was confused quite a bit about how things looked on the map screen. Never the less I continued on for as all I knew I had started at the trailhead marked on a 2016 Forest Service map.
Here is a video of the day's adventures...
The primitive road ended in a pretty little meadow where the morning sun was just starting to light things up quite nicely...
Across the meadow, to a beautiful stand of quakies, then into the trees...
This was looking more like a trail I would expect. After about a mile I reached a small pond, obviously frequented by the cows grazing in the area. Once around the pond I was unable to find anything that looked like a trail but I continued on in the direction of my route.
Travel was getting a bit troublesome, crossing dead fall, weaving through the trees, zig-zagging back and forth trying to find the trail...
I soon found myself in a new-growth area, still without a trail, where travel continued to be difficult. The new growth was low to the ground so I was constantly pushing my way through the branches...
This was getting tiresome. I checked the map on my InReach and noticed that the forest service road on which I had come in was paralleling my direction of travel just to the west. I decided to head for it to get out of the trees. I'm not a big fan of road walking but it was a bit of a relief for a while...
I was still confused by what I was seeing on my InReach. Nothing seemed to make sense. Remember that I thought the Dahlgreen Trail head was where I had started the trip. After wandering up and down the road for quite a while I decided to take another approach. When planning the route there seemed to be a mix of trails and forest service roads, any of which could have made up the trail route. The various maps I had used disagreed with some showing the roads and others not. I finally found the end of a spur off of the main road on which I had been walking and decided to head that way. At least *that* part seemed to make sense looking at the map on my InReach.
I found my way there and discovered that I could have driven all the way there, cutting off about six miles of the day's travel. Finally I found another sign. Not a trail marker, only a notice that motorized vehicles were not allowed. I could see that my location did correlate with one leg of my planned route so I thought this must be the right way. Now here's the irony. As you see me standing here in this next picture, with the sign off to my left, behind me was "the" Dahlgreen Ridge trail head! Not marked of course, nor was it obvious there was a trail there as I walked by it...
I headed up the trail. Things were looking more like a real trail but still I was expecting to find the cutoff to the south for the Dahlgreen Ridge trail. After a mile or two I finally ran into this trail sign...
China Meadows Trail? What the heck? I knew a trail would come up from the China Meadows area in the East Fork Smiths Fork drainage but *that* trail was marked as the Sargent Lake trail on the Forest Service map. All so confusing but I continued up a bit further, still looking for a trail to branch off to the south, when I reached the top of the ridge. Any further and I would be heading down to China Meadows. Time to check the InReach again. Still expecting the Dahlgreen Trail to take off from this trail I walked back down looking for any sign of any trail. I found I was standing right next to a trail and my location on the InReach map showed me right at the point of my route.
Here is where the trail takes off to the left. You'll note a small dead tree drooping over the trail. Oh my heck. No cairn, no sign, and no obvious path. No wonder I kept missing it!
So I headed down that trail, confident I was finally on the Dahlgreen Ridge trail. After a while the trail became a bit overgrown but was still obviously a foot trail, more than a social trail, but I felt like I was heading a bit too far to the east than I had expected. Checking the InReach I found I had left the trail somewhere along the way. I headed back west until I came across a beautiful sight! A real trail...
Now I had finally found the Dahlgreen Trail! I continued southward on the well traveled trail. There were tree blazes! What a relief!
Checking my InReach a bit later I was still confused why things didn't seem to make sense on the map. I decided to zoom out quite a bit and that is when I made the discovery... I was NOT on the Dahlgreen Ridge trail! I was on the Big Meadows trail on which I had planned to make my return back to the truck. Oh my gosh! All I could do was laugh it off...
Continuing on I would pass the wilderness boundary sign so I was feeling much better about where I was headed. Next up was Big Meadows. So beautiful...
There were some clouds forming in the area and my knee was in need of a rest break so I decided to take an early lunch along the edge of this beautiful meadow. I found the most perfect spot with a little shade and a nicely placed log for a backrest...
It was a perfect place and time. The light breeze was warm, the sun shone above, and all kinds of things to explore around me...
I didn't want to leave but I needed to get moving.
Back into the trees the path looked like it was going to be cluttered but reasonable. There were frequent blazes on the trees and an obvious but fainter foot path to follow...
Well... that didn't last very long. After a few miles I found myself back in route-finding mode once again. I couldn't find the trail anywhere. I continued on in the direction of my route, zig-zagging from the east to west trying to find the trail. Dead fall was *everywhere*! Over, under and around. All I could do at this point was continue following my planned route on the InReach....
Finally! I popped out of that mess and into a small meadow to find a faint foot path and a cairn! That previous section was a disaster!
The foot path and cairns were spot on with the route on the InReach. What a relief! I soon came to another beautiful meadow. My route showed the trail crossing the meadow so I headed across. The meadow was wet, and getting more so as I got about half way across. I was not in the mood for wet feet so I decided to head into the trees to my left and find my way around to the other side. Once on the other side I found the trail which obviously went through the trees a little further to the east than I had gone. Stupid map!
Just beyond I came to my next trail junction. It was the Highline A trail....
It was reassuring to see that sign, let me tell you! The route to the west to China Meadows heads down along Lake Hessie. I was hoping to go down there to fill up with water but decided the approximately three miles was more than my knee would tolerate. Hopefully I could find another water source on my way back.
Continuing up the Highline A...
Ah ha! There's my trail back to the truck! Things were looking up. But, before I headed down there I wanted to go just a bit further to see if I could get a view down into Henrys Fork...
Magnificent! This view made it all worth it! Many of the 13ers of the Uintas right there: Gilbert, Gunsight, Dome, Kings, South Kings, Fortress, Cliff Point and the Powell Trio! Oh my gosh! It pained me to be so close to this area of the Uintas and to have to turn back. Oh well, next time.
These are the best moments on trips like this. The problem for me is you can only stay to enjoy them for a short time before the logistics of getting home get in the way. Back to the Dahlgreen Ridge junction and on down the trail. For real this time.
The trail pretty much stays atop the ridge overlooking Henrys Fork for about half the way. Views were pretty darn good. I took a peek here to notice the small lake down at the bottom that I had seen on the map and had considered as a possible water stop. That's a long way down... guess I won't be stopping there for water...
The trail was not too hard to follow but there were sections that were challenging. Soon the trail drops off the ridge and heads a bit more to the west. I ran into this cute little guy playing dead. As I slowly approached I could see him tuck down his ears to complete the camouflage effect. Such a good little bunny...
As I ended the trail I popped out onto the road to find I was back on that spur road where I had started up the China Meadows trail. I couldn't believe the trail started right there but I couldn't see it!
Back to a loooong road walk back to the truck. By this time my knee was very unhappy with me. I almost think the road walking was worse on it than the trail with all the bush whacking but I'm sure I was just plenty tired...
At this point I was well aware the day's miles were quite a bit more than the thirteen I had originally planned. I resisted checking my miles traveled on the InReach. That would have to wait until I got back to the truck. It's a psychological thing for me I think.
Along the road I ran into a guy on an ATV who stopped to ask if I needed a ride. I'm guessing I looked a bit haggard or something. I told him about my struggles finding the trail that morning and the poor condition of the Big Meadow trail due to all the dead fall. He confirmed there is a way to go from where I parked to get the Dahlgreen Ridge trail. Obviously I didn't find it. He said he has been coming up to this area for twenty years and has never seen so much dead fall. That made me feel a little better about my navigation challenges.
Back at the truck I got my pack off and jumped in the truck. Checking the InReach revealed I had gone 20.0 miles! Oh my heck! That's crazy! I was tired and sore but I still had a great adventure! When is the next one?
Back home I continued to be confused how I made such a big mistake on the trail head location. Thinking back on my planning it finally occurred to me what I had done wrong. I knew I had to drive in towards the Henrys Fork trail head but cut off at an earlier point. I wanted to have directions on my phone of how to get there, especially because I would likely be arriving before morning light. I had looked on Google Maps on my iPhone. I tried to follow the road up from Mountain View, looking for what looked like the point where the trailhead was. With the limited detail on the map I picked the wrong place. It was a turn out from the main road with a half circle for parking that looked like many other trailheads. At the time it looked good but of course was a huge mistake. Lessons learned again.
Last edited: