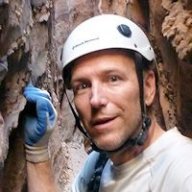 Joined

Jan 18, 2012
Messages

20
OK, I haven't got much, because I haven't been out much lately. So, desperate for trip report material, I'll post this.
It's not actually in the back country - it's much more front country, being a 20 minute hike from the parking lot, which is 2 minutes from the freeway.
Cypress Creek is a creek that descends the slopes of Black Mountain, near the Cypress Bowl ski area, just north of Vancouver, BC. Cypress Bowl (now known as Cypress Mountain, though there is no actual "mountain" by that name) was the venue for the freestyle skiing and snowboard events at the Vancouver 2010 Olympics. The creek is beautiful canyoneering adventure in late summer and into the fall, involving a short approach hike, up to 3 waterfall rappels, and lots of wading and rockhopping in granite narrows.
The creek is normally done only in summer, after the snowmelt has tapered off, usually after the start of August. There is a lot of water coursing through the creek prior to that.
Vancouver is a very temperate area, close to sea level, and often slammed by the "Pineapple Express", coming onshore from Hawaii's region. The express brings rain and relatively warm (say, 50 F or so). However, last week we had an unusually chilly stretch of days - about a week of temps as low as about 20 F.
Friday I had to work at 2:30 PM, and the temperatures were finally about to warm up that afternoon, so, having found no one to share the adventure with me, I headed to the creek on my own. I was going to do a short, easy section of the upper part of the creek - a dry rappel of 65 feet to the bottom of the gorge, and a 20-25 minute walk/wade/splash down the creek.
The temperatures warmed up earlier than expected, and some rain started to sprinkle down on the hike in. There was still a lot of ice around, and low flow in the creek, so the trip was worth it. I wore two wetsuits - a 4/3 with a 3/2 on top of it - double neoprene socks, and neoprene gloves. Was toasty warm the entire time! I walked down until I reached the location of the first waterfall rappel, looked down it, then headed back up to the road.
Video below: