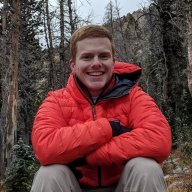 Joined

May 31, 2015
Messages

2,264
October 9-10, 2015
This was my last mountain trip for the year. My friends and I decided on the Uintas, due to time constraints and because we love the Uintas. We also knew that once we got up there, we'd be racing the sunset, so we picked a hike that would give us solitude but wouldn't be too far. I looked over the maps and found Teal Lake, and after plotting a route on CalTopo and checking the satellite imagery, I decided we could handle it. We would hike the trail up to Ruth Lake, head off trail from there and go to Cutthroat Lake. Then, we'd follow the marshes from Cutthroat to Teal.
So we got together in Salt Lake and headed up in the late afternoon. We got our recreation permit at the gas station in Kamas, which I didn't know you could do. Kinda nice since you can pay with a card! We got up to the Ruth Lake trailhead, and we were surprised to see 5 or 6 cars there. We talked to a guy in the parking lot who was waiting on his buddy in the bathroom. They were planning to hike the highline trail to just below Rocky Sea Pass, and by the way he was talking, it sounded like he was hoping to make it there that night. Audacious.
We started off and made great time to Ruth Lake.
Gavin in the shadows. Plenty of light left.
Nice meadow on the way up. I was really liking those long shadows.
Ruth Lake with a nice reflection
There was only one group camping up at Ruth Lake, and we didn't see anyone else until we were back at Ruth the next morning. We deliberated a bit trying to decide where to leave the trail for Cutthroat. We headed off-trail about 3/4 of the way around the lake, and we tried to stay close to the steep slope of the mountains on our left as we made our way over to Cutthroat.
We went through a few meadows, lots of rocks, and a huge spot of deadfall on our way (I remember in
@Nick
's report of going through this area, he hypothesized it was from an avalanche, and I could definitely see that). I'd imagine most of the ground we crossed over is pretty dang wet at almost any other time of the year. Nice and dry for us, though.
Leaving the trail
Rocks
More meadows. Bad pictures because my camera isn't fancy and the light wasn't good.
I liked the reflection in this one.
We made it to Cutthroat right as the sun was going down, so we ditched the idea of camping at Teal Lake. We got our tents set up and gathered some firewood. We had dinner and sat around the fire for a few hours, amazed at how still it was outside. Every other time I've been to the Uintas, it's been pretty windy. The wind barely blew at all while we were there this time. I slept great.
In the morning, I got up and took some pictures of our campsite and the lake as the sun came up.
After eating breakfast, we hiked the last bit over to Teal Lake. We followed the marshy areas to the big slope that leads down to the lake. I really underestimated how steep the last portion of that walk was going to be!
On the way to Teal
Teal Lake
We walked all the way around the lake. The water sure was still that morning. Beautiful.
A nice pond right next to the lake.
Teal Lake, looking ENE
We went back up the hill to our campsite, packed up, and headed out. We followed a slightly different path back, scrambling over big rocks to get a good view of the area.
Nice rocks just east of Cutthroat Lake.
Crossing the deadfall field. We were fortunate enough not to fall and impale ourselves on the broken branches.
Gavin taking the hard way up to the boulders.
Mike being cautious and keeping his camera safe.
Really big split rock.
Gavin doing his dips workout.
I liked how this tree fell and split on that rock. Interesting to see.
After we had scrambled up those boulders and gone up a bit farther, we had a nice view. This is looking North.
Looking SE
That's me.
We headed downhill back to Ruth Lake. There were quite a few people up around there for the day.
We moved pretty quickly down from there to the trailhead. Then, we headed out, saying goodbye to the Uintas until next year.
Cutthroat and Teal Lakes are an awesome destination if you're pressed for time and down for a short bushwhack. I'd definitely go there again.
Featured image for home page: