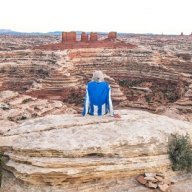 Joined

May 18, 2012
Messages

291
I just realised I posted this in the Meetup forum when it would have been more appropriate here in TripPlanning. We'll now even consider subsidising a bit of a 3rd person's costs so they get a bit of a bargain.
​
Hi,
Myself and a friend from the UK were planning to do Navtec's 5/6 Day Maze tour in Canyonlands starting Nov 23 (we may be able to do Nov 16), but they require a minimum 3 people and our 3rd person had to pull out for family reasons. (More than 3 is ok too)


http://navtec.com/combo-trips/maze-cataract.html


Obviously going with a tour company means paying and I've never done it on previous backpack trips, but the very rough trails require 4WD and national car rental firms don't rent them or allow vehicles off paved road, so hiring a 4WD Jeep for a week independently in Moab plus gas/food would cost almost as much as the tour (plus the tour company provide food, don't need to search out water or carry heavy overnight packs or worry about getting lost without GPS, cars breaking down etc, plus there might be the chance to leave the Maze by rafting Cataract Canyon down to Lake Powell and an optional flight over the park back).

Navtec said they are happy to add a day to their standard 5 day trip in the link as we also want to include the iconic sunset/sunrise view by camping a night at Maze Overlook overlooking the Maze and Chocolate Drops, and they said the extra day will also allow exploration of Ernie's Country's fins, and the Pete's Mesa/Harvest Scene hike would be a loop to take in a ridge overlooking the Maze canyons (a 6th day adds a bit to the price to cover extra food/gas, but it's not too much more). It would be great if anyone wants to join us, but we'd need a fairly quick definite yes, and I guess at least a deposit for Navtec, as we have to move to confirm the tour, book flights, or if we don't get a third, make alternative plans. We'd be coming from Denver if someone needs transport, but would not be returning there until about Dec 2. Ideally best to email me at rosskaniuk (at) hotmail.com (where the at is @) or post here, or private message, but I might not pick that up so quickly. Thanks, Ross
​
PS We'll be doing independent hiking day trips before and after if anyone wants to join us in the Needles, Hall Creek Narrows and Behind the Rocks.


​