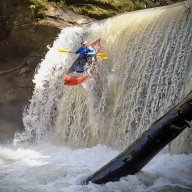 Joined

May 3, 2013
Messages

556
The other Plateau. Other than river runners, climbers and local hikers the Cumberland Plateau is relatively off the map. 2 areas stand out...The 125,000 acre
Big South Fork National River & Recreation Area
in Tennessee/Kentucky and the
Obed National Wild & Scenic River
in TN. The BSF has more hiking and backpacking opportunities, along with some climbing and world class rain-dependent whitewater. The Obed area is much better known for rock climbing and its plethora of paddling opportunities...when it rains. No dams down here, its all free flow, wild and remote.
This past weekend a friend and I drove 4 hours south to the Obed area. We missed the peak fall colors by a week but the hiking and waterfall show was worth the trip. We also discovered a great little climbers hostel/campground where we met people from all over the country. If you are ever in the area there is the NPS campground along the river and the Lilly Pad climbers hangout owned by a friendly local couple with a microbrewery in the works. Both great base camps to explore the area whether its by foot, kayak or dangling from a rope.
Del and Marty's Lilly Pad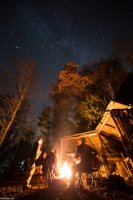 Lilly Bridge overlook above Clear Creek, a tributary of the Obed River. Fall color fail...a week too late...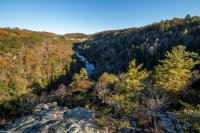 Upper Potters Falls on Crooked Fork Creek. This is a fun first timers 19' waterfall when the creek is running, and the Crooked Fork is a classic class 3/4 run through some wild country.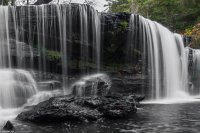 Lower Potters Falls. Typically a portage when we run the creek, it was cool to see it at low flow.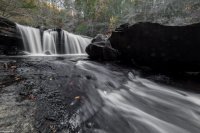 Lower Potters Falls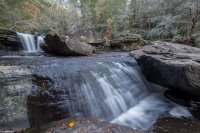 Below Lower Potters Falls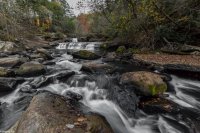 Melton Mill Branch at low flow, a tributary of Clear Creek.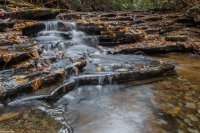 Lower Melton Mill Branch Falls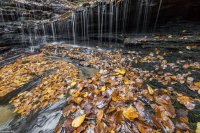 The next day on the way back home we hiked the Honey Creek Loop in the Big South Fork about an hour north, a rough and tumble little 5 mile loop full of variety.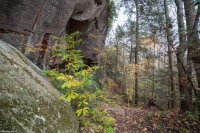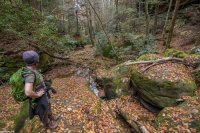 Some of the biggest rock shelters I've ever seen can be found along the Honey Creek Loop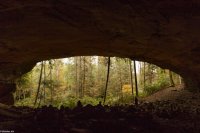 This kind of freaked me out...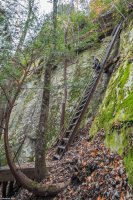 Honey Creek Overlook. Looking into the Big South Fork Gorge and a low water class 3 Kreckles rapid.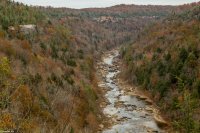 The closest towns are Wartburg and Oneida, TN. This is a very rural area deep in the bible belt...or what I call the belt buckle. If you find yourself in the southeast looking for adventure check out this region. Bring a backpack, kayak or canoe, climbing gear and a mountain bike. Might want to bring your own beer, for now.
Featured image for home page: