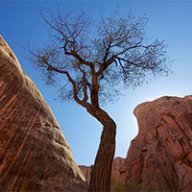 Joined

Aug 9, 2007
Messages

12,906
September 2010
I spent a couple of nights in the Cuberant Basin over the Labor Day weekend with some new friends. I hadn't met any of them before but it was a fun trip and always very interesting to backpack with new people. I planned on staying two nights and coming back on Sunday while they were going to stay until Monday. I was going to be leaving for a five day trip to Escalante in a few days so I needed the extra time to pack and take care of things around the house.
This is a map of the Cuberant Basin area with the approximate route.
This is Christian and I heading out from the Pass Lake trailhead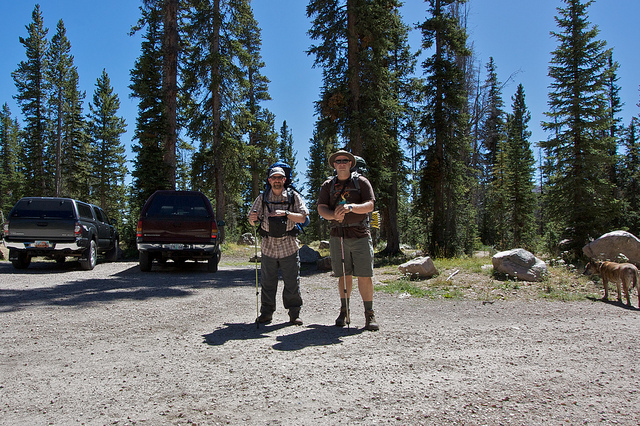 The trail winds down through Reid's Meadow before ascending back up towards Kamas Lake.
The signed turnoff to Cuberant Basin
This is probably the most strenuous part of the hike, climbing over the pass into Cuberant Basin
Christian climbing the pass with Bald Mountain and Reid's Peak standing tall in the distance.
Classic Uintas scenery
The other side of the pass is steep as well but very short and soon after it arrives in Cuberant Basin.
There are five named lakes in Cuberant Basin. This is number two.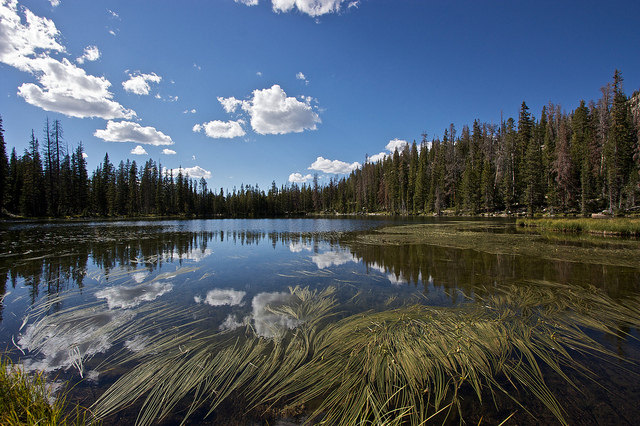 Nikita has had a little obsession with catching fish ever since I let her walk off with one last month at Allsop Lake. Swimming on the other hand is not her thing.
Haha! Nikita fell in while obsessing on the fish! I don't think she had any idea the water was so deep either. She swam in a couple circles before finding a place she could even get out.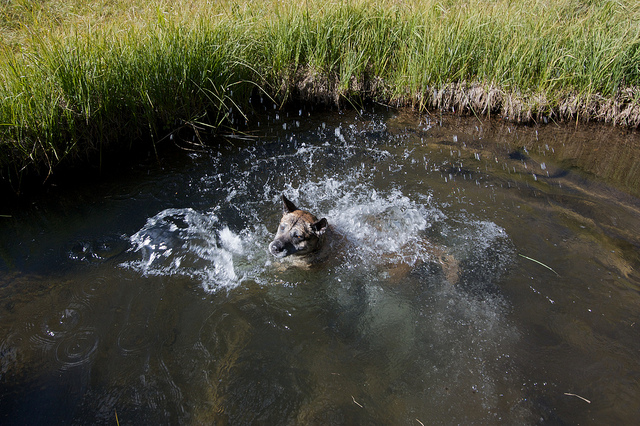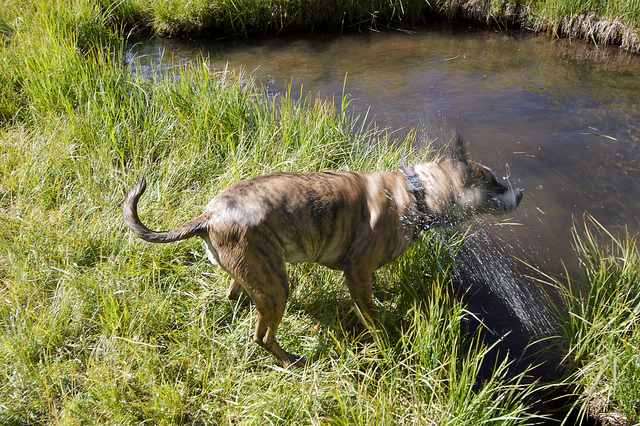 Christian as we arrive at Cuberant
Christian and I were the only ones there for most of the evening. We were expecting a few others but weren't sure when they would arrive. We had a scary moment after dark. Something that would have really freaked me out if I had been solo.
We had been pumping water near the inlet to the lake and were walking back to camp. We were about 50 yards away from camp when I noticed two eyes looking back at me. They were in our camp but I couldn't see what kind of animal it was. They stared back for a moment as we walked closer and then disappeared. It seemed like we were close enough that we should have been able to see the body of the animal but we just couldn't.
We walked into camp and saw it staring back at us again from the woods so we walked towards it. We would walk further and it would disappear. Then those glowing eyes would reappear again, staring right back at us. We followed it a couple hundred yards into the forest and at one point I saw two pairs of eyes staring back. One above the other, I would estimate the taller set to be at about 6-8 feet and the shorter set to be at about 4-5 feet off the ground. And then they were gone. It was really, really creepy the way this animal was so unafraid of us and we could never see anything but those eyes staring back. So glad I wasn't alone for that experience, especially after reading about all the bigfoot history in Cuberant Basin.
Later that night the rest of the group showed up. We went from 2 people and 1 dog to 5 people and 5 dogs. I put my camera out on the shore for a while and shot some star trails over the lake that night. I wasn't able to illuminate my foreground at all but I did get a nice reflection of the stars in the lake.
The giant kitchen rock in this campsite was really nice for such a large group.
We spent the next day fishing our lake and one of the nearby lakes. The fishing was mediocre although I did bring in about 8 throughout the day. Most were quite small.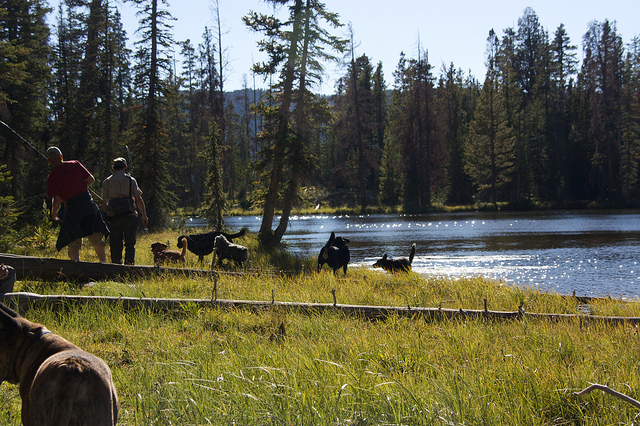 The hike over to Cuberant 5 was quite steep and rugged and it was all route-finding, no trails.
Back at camp we got a blazing fire going
The next day I packed up and headed out while the rest of the guys stuck around and fished more. This shot is looking back into Cuberant Basin from near the top of the pass.
And on down towards Reid's Meadow. Great trip and great to meet a so many likeminded people for future trips.