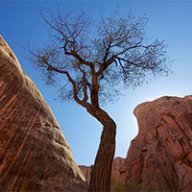 Joined

Aug 9, 2007
Messages

12,939
Over the winter I set some dates with my brother-in-law for a fishing trip out in Glen Canyon, just us and our wives. Weather is often hit and miss during the spring, but who would have thought it would end up being as wet and wild as it's been this year. In the days leading up to the trip, I almost cancelled a few times. Inclement weather is one thing, but dealing with it while on a boat is another. But when I mentioned the possibility of doing it another time, the response was a resilient no. They had baby sitters lined up and it had been years since they'd been out there. A little rain and wind wasn't going to stop this one.
Audra and I packed up the dogs and boat and headed down a day early. We made it to Bullfrog in the mid-afternoon as strong thunderstorms drifted by both to the east and west. As I walked down the ramp to hop on the boat, I looked over toward Moqui Canyon and I could see water sheeting off the sandstone domes right where we were headed.
But somehow we were in a little calm pocket amongst the storms as we motored off into Bullfrog Bay.
These guys weren't having nearly as good of a time. They launched right before us and failed to notice the slightly submerged sandstone dome in the middle of the bay. It was sort of marked by that little white hazard buoy a couple hundred feet to the side of it. We call these things 'whales' when navigating the reservoir. They are extremely hazardous and a have been responsible for numerous deaths. They are rarely marked. Fortunately, I don't think this houseboat was moving too fast when it ran aground.
They were right by the marina and still had a good boat or I would have offered assistance. So on we went up lake. As we approached Moqui Canyon, the storm was hitting us. Ice cold rain flying in sideways. It was not a pleasant way to start things out. But then I saw little ribbons of water shooting off the edge of Moqui Wall. Captivated by them, I almost didn't notice the giant flash flood straight ahead.
When I first was entertaining the idea of owning a boat and spending a lot of time at Lake Powell, this was near the top of my list of things I wanted to experience. I was not dissapointed.
As if this day couldn't get any better, the clouds parted and it turned into a beautiful sunny afternoon.
A short video clip of the flood.
After spending a while jumping up and down and screaming out in joy, we finally moved on toward our intended destination; Crystal Springs Canyon. Every drainage along the way was flowing.
As we entered Crystal Springs, I noticed the canyon had taken on a whole new character. The heavy rain had soaked the walls, making the varnish pop like I've never seen before. My giddiness at this point was getting a little out of control.
A friend had mentioned a nice sandy beach right at the beginning of the Crystal Springs slot, but when we got to the end of the canyon, it was flashing so hard that it had filled the area with debris. Lucky for us, we found this excellent campsite right across from it, complete with a 300 foot waterfall pouring off the overhang behind.
Base camp for the next 4 nights.
That night stayed nice out. We took a little sunset cruise, cooked dinner, fished a bit and eventually went to bed. Sometime around 3am, the rain picked back up. Our little waterfall turned into a full on flood. We were safe where we were, but it was still pretty intense. The ground rumbled as the water dropped and pounded outside the tent.
The next day was more mixed weather. It was windy out in the main channel but quite nice in our canyon. We slept in late and spent the morning fishing. In the afternoon we motored back to Bullfrog to pickup my brother-in-law and his wife. We missed most of the rain, but it was coming down hard nearby on the Waterpocket Fold.
We raced back to camp and got setup in time for dinner and a little fishing off the back of the boat. The water near camp was muddy from all the flooding but the catfish were there in force. It rained again that night and once again the 300 foot waterfall formed and lulled me into a deep dream state.
The next morning we woke up and went out fishing and exploring the nearby canyons.
Now that's a nice smallmouth. We caught a few about this size. Audra has decided to be the filet master so we ended up taking home several pounds of delicious smallmouth fillets.
Later in the day we went down to Halls Crossing to top off the tank for our trip to Good Hope Bay the next day. On the way back we ducked into Moqui Canyon. The light was nice but the crowds were not. I was surprised to see so many people in there considering we'd hardly seen anyone in Crystal Springs, just a bit up lake.
This was Patina's first Glen Canyon trip in reasonable temperatures. She had such a blast.
Storms hitting Ellsworth and Holmes as we head up toward Crystal Springs. I think those two are amongst my most favorite mountains anywhere. I hope to spend more time on and around them in the near future.
Nikita loving the boat, as usual. She's taken a bit of a health decline lately. Her arthritis in her back has gotten so bad that she is falling down and losing reflexes, but the doc just had us start her on some shots and other medication that may help. But on the bright side, her blood work is like a dog half her age, so if we can just get the arthritis under control, she should be spinning circles in the sand in no time.
Back at camp, I decided to go for a hike. I'd been eyeballing a dome at the head of the canyon since we first arrived. It turned out to be an easy jaunt to the top with some nice views. Our originally intended site is at the back of that channel there.
Looking down at our camp. I hollered down and let Audra know it was well worth the hike up, so she came up and joined me.
I found lots of shiny new anchors up here. I guess just houseboaters with ropes and lots of time on their hands? I wish they'd spent some of that time setting up a natural anchor instead.
And then this one I just can't figure out. It was probably 10-20 feet above high water mark or else I would assume it was some asshat's version of a houseboat anchor.
On the hike back down, the appearance of what has been above and below the waters of the reservoir are pronounced.
The next day was our perfect weather day. We loaded up and set out for Good Hope Bay. Tapestry Wall is always a beautiful sight. For perspective, the bathtub ring on this day was about 109 feet high. I can't wait to stand on top of that wall sometime soon.
It's hard to capture, but I really love the geology as you head up the canyon toward Good Hope.
Once into Good Hope, we went into fishing mode. It wasn't great, but we did okay. Now this one is definitely a largemouth bass.
After fishing for a while, we beached the boat in Popcorn Canyon. This one is on my list, so as soon as we were tied up, I grabbed my camera and Sage and I went for a hike.
Greenery moving in on the former lake bottom. Too bad a lot of it is tumbleweed.
I finally made it to the split in the canyon and headed up the left fork. The silt walls were immense and tamarisk grew rampant. No one told these guys there were beetles out here to eat them.
The silt slot got so deep and dangerous that I climbed out. The sides were caving in and giant wingate boulders sat precariously on the edges. Eventually I made it to this boulder jam and decided to bypass again, this time on the right. I probably would have climbed through but by myself and with a recovering knee, I didn't want to mess around.
As I worked my way around the slot, I began to see why this upper canyon gets it's name. The Chinle Cathedral is what I was after, and there was a lot of beautiful chinle here.
Sometimes it looked like someone just puked chinle mudstone all over the place. It seemed a bit out of place.
Eventually I made it to what I believe is the start of what is known as The Chinle Cathedral. Unfortunately, I had expended too much time getting to this point. I didn't tell my group how long I would be gone or what to expect. I wanted to keep going, but instead I chose to take a few shots from up here and come back another time.
The walls of vertical mudstone were impressive. The wingate above dropped no shortage of giant boulders, just waiting for a strong rain to send them plummeting into the canyon below. I would not want to be below that ledge for long.
Already gone for an hour, I hustled back to the boat. These grasses caught my eye on the way though. A curious spring right in the middle of a chinle slope.
There was a bit of bushwhacking through tamarisk, willow and tumbleweed as I avoided the slot on the way back. And of course random patches of fascinating chinle mudstone here and there. I love all the colors that come out of this stuff.
Sage watering up as we finally make it back to the shoreline. Now we just need to work around that left side for a while and back to the boat.
The lake was on the rise while we were there. Later than normal, and most definitely less than a normal year, but still coming up a few inches per day.
I got back to the boat, had a swim, some lunch and then we motored over to Ticaboo Creek and did a bit more fishing. The scenery over there was just tremendously good. I can't wait to get back up this way soon to do more exploring by foot.
Heading back to Crystal Springs after a long, beautiful day in Good Hope. Happy dogs, happy wife, happy life.
I cut a lot of photos out of this report. If you'd like to see more, you can find the full set here:
https://plus.google.com/photos/1135...s/6151568064616673057?authkey=CLaB5s-Su6ydywE
Featured image for home page: