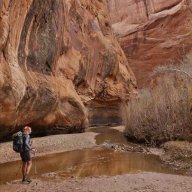 Joined

Jan 4, 2015
Messages

2,701
Hello BCP'ers!
I'm hard at work planning next year's hike. Hoping to do a Mexico-to-Canada special, but this time through Arizona, Utah, and Idaho. From the Mexican border to the UT border, my route follows the Arizona Trail. From Ketchum northward, it follows the Idaho Centennial Trail. But between the AZT Stateline Trailhead and Ketchum, there's no existing long-distance hiking route in place.
Soooo... here's my tentative route. It loosely follows the Great Western Trail, but the GWT is multi-use and doesn't always take the best route from a hiking standpoint. So sometimes it follows the GWT, sometimes it doesn't. The goal is to maximize scenic value and stay high on ridges, as much as possible without taking routes that are unnecessarily circuitous. This hike will be long enough as it is!
BCP is probably the best brain trust out there when it comes to the intermountain west. Your comments/suggestions would be appreciated!
In addition to anything anyone wants to opine on, I've got a few specific questions, and more will come up as the planning process continues:
Snake River Plain: There are plenty of water sources (wells, cisterns, reservoirs) along the route, but I have not been able to confirm whether of them actually have water. Any firsthand knowledge?
Fort Hall Reservation: I believe my route stays on publically accessible roads for the entirety of its journey through the reservation - but can anyone confirm, or else offer an alternative?
Diamond Fork area: Does anyone know if there is a trail down Third Water between Rays Valley Road and the hot springs? Otherwise I'd have to follow Rays Valley Road north to Fifth Water and then back downstream to the hot springs.
Chuckwagon General Store in Torrey: Is the selection good enough to do a 7-8 day resupply out of, or would it be best to hitch to the Food Town in Loa?
Boulder Mountain: Does the trail down from Donkey Point to the NE actually exist? The quads says it exists, but I have my doubts...
Provo Peak Area: does the mapped trail actually exist?
Note - I know the view looks kind of messy by default. To make things easier to look at, view the map in Caltopo itself and uncheck the "markers" box on the left side. That should leave just the lines and look much cleaner/easier to read. There are a few alternates mapped in a couple places (just the markers), but the line outlines the main route I plan to travel.
I'd appreciate any commentary anyone can offer... thanks!
Last edited: