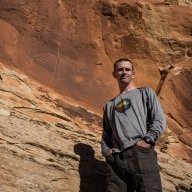 Wildness is a necessity- John Muir
Joined

Jan 4, 2014
Messages

1,099
8/13-16/2015
Without the novelty of my first year much of the Cloud Peak Wilderness has become same old same old, hardly a fun thing to say about such a gorgeous place but true none the less. Luckily, after a couple weeks of little zest or amazement I found myself with a tour to the northern end of the Cloud Peak Wilderness. Understandably, the areas of the north still captivate me and prove that this wilderness is a darn good place to spend a summer protecting.
8/13
A great string of weather in the forecast, I decided to go out to Highland Park. I was amazed when I went there last year and found quite a few groups camped out in a horrible forecast (it rained, then snowed…) so I figured with a great forecast there would be a need for me to keep illegal fire rings at bay. Plus, the area is outright gorgeous and true wilderness.
So I headed out. The dreaded climb up to the pass was as bad as expected and made worse by it being hot. Easily 70 up around 10,000', nuts. But some ok views yielded downright awesome ones when I reached the park.
Last year I camped in the park's proper, a bad choice considering my water source was a stagnant snowmelt puddle full of yuck and swimmies. I dreaded giardia for a few weeks after that. This year I headed straight to Peggy Lake, hoping to be close to the camps at Highland Lake and have nice water to filter.
Amazingly, I found Highland Lake without a single group camped there and without a single fire ring built, quite a difference from the five groups and five illegal pits there last year. I headed to Peggy and had a nice quiet night.
8/14
It was a nice morning when I awoke and bolstered by no campers nearby I set off for Spear Lake. It was sadly there where I found all the illegal fire rings and camps too close to water, but still there was no one around.
After some site rehab I decided to check out a social trail to the Loomis Lakes. The trail was amazingly treaded out, almost like it used to be a real trail so the way was an easy off trail experience by CPW standards. That said it still cut up a cliff far more aggressively than I imagined and the high temps had me huffing and puffing like I haven't been hiking all summer. At least the views were awesome the whole way.
After attaining the Loomis cirque and finding it in great condition I headed back, knocking down social cairns the whole way. They certainly weren't needed… The way back was nice and uneventful, still yielding no public contacts! No contacts in two days, in an area that is semi popular, on a great weekend! It's unheard of out here
8/15
Half the groups I met the year before in the area were there to climb Blacktooth Peak. Considering the weather was bad, many likely did not make it. But knowing that was a large draw to the area, I headed towards the Sawtooth Valley, not sure how far I'd make it.
The first obstacle of this largely off official trail adventure in the scaling of the cliffs that create Sawtooth Falls. They are downright tall and shear, but again, a very well engraved social trail existed to help, and it went exactly how I had planned it out with only a couple semi-exposed sections. A few good views of the waterfall and a nice "world falling away feeling" made the climb quite pleasant actually.
After reaching the top of the cliffs I found myself in an unplanned more gentle ascent through gorgeous thick forest. The creek had many smaller falls and slides into lagoons that made me think more about the Pacific Northwest or East Coast than the Bighorns. Very cool.
And then it opened, and my jaw instantly dropped. The Cloud Peak isn't an area of intimate grandeur, in only a few places do the mountains feel tall and I feel like a bug on the face of something immense. The Sawtooth Valley in front of me did just that in some of the most gorgeous alpine country imaginable.
Reaching the first lake at 10:00 I knew my chances of reaching Blacktooth's ascent and saying "sure, why not" were out of the question but I figured I could make it a good way back the valley before turning back. I had at least seven lakes to see after all!
After making it to the second lake I also met the first group of people in my trip! A very nice bunch, there to climb Blacktooth and enjoy the wonder. I didn't talk to them too long, I wanted to see the wonder too!
After hours of treading my way amongst the boulderfields and lakes I climbed a rough slide to find a lake filled of glacial silt, a view of the valley's headwall, and deemed myself having gone far enough. Looking at the map, I wasn't even at the end of the valley and that was why I got the sense I couldn't even see Blacktooth. I tell ya, the people that hike up that sucker are hardy.
8/16
I lucked out having my last day on a definite shift in weather. I woke to a stiff wind and definite lower temps. Packed up I headed back up to Highland Park, still finding no one at Highland Lake. No one all weekend. A wonder!
The full pack, cold wind, and long hike kept me from really enjoying the hike out, but boy was the weekend great. A true wilderness experience and wonderment of magnitudes I thought beyond the CPW's capacity. Twas certainly a recharge to the spirit!
Featured image for home page: