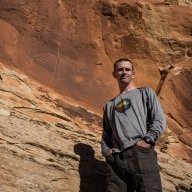 Wildness is a necessity- John Muir
Joined

Jan 4, 2014
Messages

1,099
7/1-7/5/15
I can hardly wait for these "special" weeks to be over and I'm just doing my job... Next weekend!
The beginning of July saw the wilderness crew attending a training for two Wilderness Watch interns. I say attending because we weren't being trained, nor were we training, we were just there. The projects of the next few days could have easily been done during this time instead.
At least we camped near Oliver Creek, which is pretty.
The next day I helped the other wilderness ranger lug our base camp into the east side while my boss took a day off. This day it rained... hard... I really hope that isn't a trend.
Then over the 4th, my boss and I took our base camp up to the west end with the our horses. Two days of contacts beyond wilderness standards, butthead horses and long hours that I'll only be paid a fraction of made it really frustrating. I also gave my first ticket of the season and could have given more. It wasn't a fun time. Before we could finish up packing the horses to leave the sky openned up again and we had some serious rain for the whole hike out.
The West Tensleep drainage at least never lets you down in the pretty department.
Hopefully my next sharing of the CPW pretty will involve less whining and more gorgeous views!
Featured image for home page: