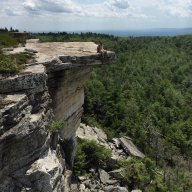 Joined

Jul 21, 2014
Messages

6
New Yorker here planning a two week trip out to southern utah in late September. I've got company at the beginning and end of the trip, and will be making stops at zion, bryce and arches, but in between I have a few days to myself with which I would like to hike coyote gulch via the crack route.

My question is regarding the potential for deep sand traps along 40mile, and whether making the trip via crack in the wall will be feasible without a high clearance vehicle or some sort of shuttle arrangement.

Additionally, as I will be alone and without ropes, would an exit via jacob hamblin be a mistake? Is it wiser to double back to the crack or is the hamblin exit reasonably safe? I've heard it can be quite daunting with no ropes to a non-climber.

Thanks in advance.