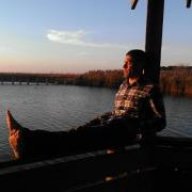 Joined

Feb 19, 2013
Messages

147
Was not sure which section to post this one in, I started out driving up to Coyote Flats in my Jeep. But bagged two peaks using my Jeep as a base camp.
Started out in the desert from Bishop California in the eastern Sierras:

We drove all the way to the top of Green Lake and spent the night acclimating to the altitude before our climbs.
You can see the highest peak in the background of the above photo is Vagabond, the first of the two peaks we bagged.
The next morning we took this general route of to the top of vagabond:
The route up was no trail, all your own route finding. Lots of loose rock and all the rocks increased in size as you approached the peaks. A little light scrambling up to the top of Vagabond.
After Vagabond, you go down a little to a saddle and cross to go summit Cloudripper. Cloudripper had a little bit more snow on it:
At the top of Cloudripper the view was absolutely stunning, you look across the area at the Palisades Glacier. I enjoyed the view more than the top of Whitney.
I wrote a more detailed trip report with maps on my blog
here.
I hope you all enjoyed my photography!
Last edited: