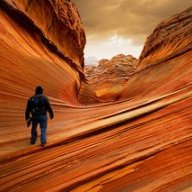 Broadcaster, formerly "ashergrey"
.
Joined

May 5, 2012
Messages

1,724
BLM seeking public input on doing away with the in-person lottery:
BLM seeks public input on Paria Canyon-Coyote Buttes Draft Business Plan

Plan proposes streamlined reservation system, adjusted fees

ST. GEORGE, Utah
–The Bureau of Land Management (BLM) Arizona Strip District Office is seeking public comment on a plan to streamline the permit reservation process and adjust fees for areas located within and adjacent to Vermilion Cliffs National Monument, including the popular geologic formation known as the "Wave."
The Paria Canyon-Coyote Buttes Draft Business Plan was developed to balance customer-friendly visitor access with managing impacts to the ecologically unique and remote areas within the Paria Canyon-Vermilion Cliffs Wilderness, amid skyrocketing public interest in the areas.
"Since 2008, we've seen a significant rise in visitor interest in these areas, including a 400 percent increase in the number of people seeking permits to access the Wave," said Arizona Strip Field Manager Lorraine Christian. "Based on visitor feedback, we determined it was time to review our business plan in order to provide improved customer service while also ensuring the public continues to enjoy a safe and pristine experience in these areas."
The BLM proposal would align customer service with a presidential directive to provide online recreation services, transitioning all permit operations for Paria Canyon Overnight, Coyote Buttes North (including the Wave) and Coyote Buttes South to a single, streamlined reservation portal on the Recreation.gov website, beginning in early 2016. Currently, 20 people are allowed into each of these sites daily, with high-demand permits to Coyote Buttes North split evenly between an advance online lottery and a next-day, walk-in lottery.
The plan would eliminate the existing next-day, walk-in lottery for Coyote Buttes North and move to a 48-hour online lottery, thus providing people planning visits to the Arizona Strip and Southern Utah advance knowledge of whether they can obtain permits. The system will also offer reliable, one-stop travel planning for visitors as they book reservations for visits to multiple public lands and national parks in the region.
Moving the system to Recreation.gov will also free BLM staff to provide critical face-to-face safety and weather updates to visitors.
Under the proposed plan, fees would also change for each of the units. Fees have not changed since they were established in 1997.
The proposed permit fee change for Paria Canyon Overnight is from $5 per person per night to $10 per person per night. The existing fee for Wire Pass, Buckskin Gulch, and Paria Canyon Day-Use is $6 per person per day. The proposed fee would decrease to $5 per person per day.
The proposed fee change for Coyote Buttes North and South is from $7 and $5 per person per day, respectively, to $12 per person per day for each area. The camping fee at White House Campground would increase to $10, up from $5, per night per site.
A $6 service fee would also be charged by Recreation.gov for each permit issued.
The revised business plan does not address adjusting the number of permits issued per day.
"Our goal as stewards of these spectacular public lands is to provide superior customer service and safe access for our visitors, while also ensuring these wilderness areas remain pristine for the enjoyment of current and future generations," Christian said. "The fees we collect stay in the area and therefore directly benefit the customer service we can provide visitors."
The public is invited to provide feedback on the permit process and proposed fee adjustments, both of which are addressed in the Paria Canyon-Canyon Buttes Special Management Area Draft Business Plan, by August 17. Comments may be provided by mail or in person at 345 East Riverside Drive, St. George, UT 84790 or via email to
blm_az_vcnm@blm.gov
.
To view a copy of the Business Plan and for more information on the Paria Canyon-Coyote Buttes Special Recreation Area, go to:
http://www.blm.gov/az/st/en/fo/arizona_strip_field.html