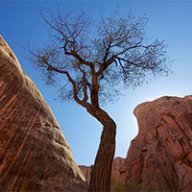 Joined

Aug 9, 2007
Messages

12,918
March 2009
In March of '09 we set out towards the Grand Staircase-Escalante National Monument for the traditional spring trip. The plan was to camp the first night in Escalante and then head west towards Cannonville to do some exploring on the Cottonwood Canyon Road. My friend Micajah and his friend John, both from Louisiana followed us, for them this would be the start of a road trip from Park City, Utah all the way back to New Orleans.
We took the the long, scenic route to Cannonville by going through Torrey, Boulder and Escalante. I wanted to show these southerners the incomparable Highway 12.
The view from The Hogs Back on Highway 12, looking over Calf Creek.
A raven on the Hog's Back
We spent the night at one of my favorite spots down Hole-in-the-Rock Road. We stopped at Devil's Garden to pick-up a permit and climb around a bit. This is John up on one of the hoodoos.
Micajah and John enjoying our first campfire of 2009.
The next morning we set off for Cottonwood Canyon Road. First stop, Grosvenor Arch. I had pulled through here once before but didn't bother to get out and walk up to the arch.
After Grosvenor Arch we continued south on CCR to the Cottonwood Canyon Narrows. I had hiked into the lower section of this canyon a few years earlier but never the entire canyon which is only 2 miles long.
This shot is looking north on Cottonwood Canyon Road. The upper trailhead for the narrows is at the bottom of this very colorful valley. Since we had two vehicles we went and dropped one off at the lower trailhead so that we could hike the canyon from top to bottom and not have to hike back.
A few shots from the upper part of of the canyon.
The canyon opens up quite a bit in the lower section. There is a cool side canyon full of white sand that is worth checking out but we didn't go up it this time around.
Audra getting a different perspective
Back on the Cottonwood Canyon Road. The Cockscomb is always a pleasure to drive through.
When we got to the south end of CCR at Hwy 89, my truck started making some bad noises and losing power. It was late Saturday afternoon so we thought it would be best to head towards Page, Arizona in case we needed to get some service.
With much moaning and groaning from my 4Runner, we made it to the Glen Canyon Dam. What a hideous monstrosity.
The bridge at the damn dam. Quite the engineering marvel.
Sad.
After stopping at the dam we evaluated the 4Runner and decided we would risk it. We drove west again to look for a campsite when the problem became much worse. I actually killed the engine trying to go up a hill. It was then we decided to head back to Page and get service. Nothing was open so we figured we would be leaving it at a local repair shop and renting a car. The Alamo rental counter at the Page Airport was open for another 30 minutes so we decided to go get a car before it was too late and then figure it out. The last thing we wanted to do was sit in page for who knows how many days waiting for the 4Runner to get fixed.
After picking up the car, we decided that we would try again to drive to camp but this time we would have the peace of mind of having the rental car. We went to Lone Rock at Lake Powell to camp. But once again, the day proved to be a royal pain in the ass. We parked down on the beach amongst a handful of other groups. Within 20 minutes we determined that all of the bathrooms were locked up for the season and there were no bushes to hide behind. That was the first problem. The next treat we experienced was the joy of having ATV's whiz past us and the dogs going way too fast.
It had been a long, crappy day, so we said Goodbye to Micajah and John and drove west to Kanab. Audra followed me in the rental car, sometimes I could only muster 30 mph up some hills but we made it. We stayed in a hotel that night and made the slow drive back to Salt Lake the next day. The 4Runner, amazingly, made it all the way home.
Sadly, the Alamo car rental place in Page would not allow us to return the rental car in Salt Lake City. They insisted that we return the car to Page. That meant we would have to make the 8 hour drive again the next weekend. Not to mention the 8 hour drive back after dropping it off. Blah! Fortunately my boss caught wind of our misfortune and offered to fly his Cessna to Page and pick me up so that I would only have to drive one car down. I jumped at the opportunity, especially when he told me would would make a long, scenic flight home via Monument Valley, Canyonlands and Arches. Can't beat that!
So the next weekend my friend Nate and I set off in our rental car towards Page to meet my boss. We had a bit of time in Page to take pictures before he arrived.
Horseshoe Bend
On the tarmac at the airport. No, this is not my boss's plane.
This, on the other hand, is my boss's plane.
Stoked!!
Not so stoked. As we taxied towards the runway a light started going off with some beeping. I didn't think much of it until we turned right into the service hangar rather than left onto the runway.
What bad luck. My boss had just flown down from Salt Lake with no problems but when we went to take off his alternator was not functioning. The shop in Page did not have the right one in-stock so we had to go right back to the Alamo counter and rent yet another car that would once again have to be driven back to Page. So basically, we drove all the way to Page, took a picture of Horseshoe Bend, dropped off a rental car, picked up my boss and a new rental car and drove all the way back to Salt Lake. IN THE SAME DAY. Suckage defined right there.
Nate waits inside the Page Airport while the second rental car was acquired.
I was so glad to be done with this trip. My boss drove back on his own the next week to pickup his plane. Nothing broke down. Guess this trip was just cursed.