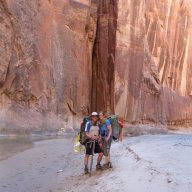 Joined

Dec 5, 2017
Messages

973
I'm interested in backpacking the Little Death Hollow/Wolverine loop and would like to extend the trip a few days. I'm wondering what it would be like to go from Little Death Hollow and Horse Canyon down to the Escalante and head upstream a bit to where the Gulch comes in, but instead of going up the Gulch head to the other (southern) side of the river and go over land to the Cosmic Ashtray/Navel/Volcano and explore the terrain in that area. I saw a 2018 trip report about this and would love additional information. A few questions:

1) Has anyone done this (and liked it) and can give tips for exiting the river and finding the structure? And did you explore other things nearby that you recommend?

2) Even if you haven't done this, do you know what the river's like between Horse Canyon and the Gulch? I've been on the Escalante between Boulder Mail Trail and Hwy 12 - how is this part similar or different from that part?

3) Or do you have alternative suggestions for extending the Little Death Hollow/Wolverine loop? I'm interested in trying off-trail routes if they're not too complicated; I'm not as confident in my route-finding skills as I'd like!

4) Would it be ok to do this in the spring (weather permitting - probably April) if this fall isn't possible?