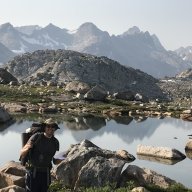 Joined

Mar 1, 2015
Messages

433
I am planning a trip in the Wind River range for this weekend and had a few last-minute questions. I already put up another post about preparing for the weather and general gear needed, so this post is more about the specific route itself. I am hoping to do some variation of the following route:

Day 1: Elkhart trailhead to Cook Lakes. Camp somewhere around Cook Lakes. Around 12 miles and 2k ft elevation gain. All on-trail according to the map, but I'm not sure how easy the trail is to follow there.

Day 2: Cook Lakes to Wall Lake to Indian Basin via "Wall-Island Pass". All "off-trail", although I'm not sure how much of a user trail to expect. Around 8 miles or so, with less than 1.5 kft gain. Camp somewhere in Indian Basin.

Day 3. Explore Indian basin, mostly without the heavy packs. Maybe move the tents to somewhere between Island Lake and the Titcomb Lakes.

Day 4. Day-hike up Titcomb basin to Bonney Pass and hopefully to Dinwoody Peak. Return to the same campsite (somewhere in the Island Lake/Indian Basin/Titcomb Lakes vicinity). 10-15 miles depending on the campsite location, with around 3k ft elevation gain. Not sure how hard the rocky terrain around Bonney Pass is.

Day 5. Return to the Elkhart Park trailhead. ~12 miles downhill.

OK, so here's my questions:

1. This route is a variation of one of the routes in the Nancy Pallister guidebook. She says the "crux" of the route is on the East side of Wall Lake. If anyone has done that section, how hard is it? I would like to do this route counter-clockwise (as described in the itinerary above) instead of clockwise as described in the guidebook; is one of the directions easier for this crux? I don't really want to do any class 3 scrambling with the heavy packs.

2. Are there any surprisingly tough areas on this route, either due to gnarly terrain, dense vegetation, or tough stretches to navigate? Should I expect any difficult stream crossings?

3. The guidebook suggests several optional add-ons such as Bald Mountain Basin (Spider Lake) and the upper Pole Creek area. I think I'm going to skip these so that I have time to explore upper Titcomb Basin and hopefully Dinwoody Peak, but if there are must-see areas to explore, please let me know.

4. Speaking of Dinwoody Peak, if anyone has climbed that, or even been up Bonney Pass, how rough/loose is the terrain? I don't mind a steep class 2 climb, but I don't really want miles and miles of big talus or loose rock.

5. My understanding is that there are plentiful camping options around Cook Lakes, Indian Basin, and Island Lake. Is that correct? Is it hard to find a good campsite at any of these three areas? Is Island Lake often too crowded to find a good free site? (I'm assuming there won't be crowds in Indian Basin or Cook Lakes?) Is it easy to find campsites in these areas (particularly Indian Basin) that have natural protection from the elements? Are there good camping options around the Pole Creek Lakes if we don't make it all the way to Cook Lakes on Day 1? If anyone has any favorite campsites in these areas that you'd like to share, I'd appreciate it!

Thanks!