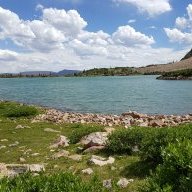 Joined

Aug 8, 2016
Messages

2,071
I try to walk 4 miles every day during the week plus hopefully something longer or some real trail miles on the weekends. At 61 years of age I have always wondered if I am pushing my heart rate too high. Today I took a hike up some local trails followed by a few miles around town. I brought along my wife's pulse/ox meter to take some readings.

While climbing some steep trail at a forced pace I measured 148-152 bpm and 95% ox sat. This was reassuring as my max heart rate calculation comes out to 220 - 61 = 159, so I'm in the right range there. Once down off the mountain I continued my workout on level surface streets around town. In an attempt to get a good cardio workout I aim for 14-15 minutes per mile and indeed my respiration is generally increased to the point of having to breath through my mouth. Taking my pulse after about a mile of this I got 82 bpm and 88% sat. I was totally surprised my heart rate was that low and the lower o2 saturation at that workout level. I generally have a high-ish at-rest heart rate around 75-78 bpm so I was hardly running higher that my at-rest norm.

I'm thinking that having a low-sh heart rate during a brisk walk is a good thing but I am still surprised it was that low. Does this seem normal to you all? I'd especially love to hear from someone in the medical field chime in.