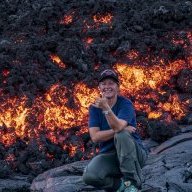 Joined

Jan 19, 2012
Messages

4,070
In July, I climbed Mount St Helens to the summit for the first time. This climb was on my bucket list for a long time, and I finally made it happen. I was lucky to get a permit pretty much last minute and decided that it was time to tackle the volcano.
Despite having a partially torn patella tendon, I opted to do the hike. The evening before the climb, I car camped at Climber's Bivouac near the trailhead. It was a spot where climbers could pitch a tent or sleep in the car. I opted to sleep in my vehicle. I didn't sleep much that night as I was too excited and unsure if I could make it to the top with my knee. I got up at 6 am the next day, and after a quick breakfast, I started my hike.
The first mile was pretty mellow with just a gradual elevation change.
Patch of beargrass near the trail
The trail went through a second-growth forest and slowly started to gain elevation. I soon reached the point where you can only go further with a permit. I finally was on the permitted part of the trail.
Not long after, the trail came out of the timber into an open field full of lava boulders and rocks. From now on, it would be a scramble up the lava. Poles used as trail markers made it pretty easy to follow the trail up, but the scramble was a total full-body workout. I had to be careful where to place my footing, especially with my knee being hundred percent healed.
there were still some patches of snow left
The climb was steep, and I gained a lot of elevation in a short amount of time. But the views were amazing!! I could see Mount Hood in the distance, Mount Adams to the east, the Gifford Pinchot National Forest below me. It really blew me away and was worth the effort.
After a while of huffing and puffing, the GPS monitoring station, which gave Monitor Ridge its name, came into sight. It was still a steep scramble to get there, and the last bit of the lava scramble really kicked my butt quite a bit.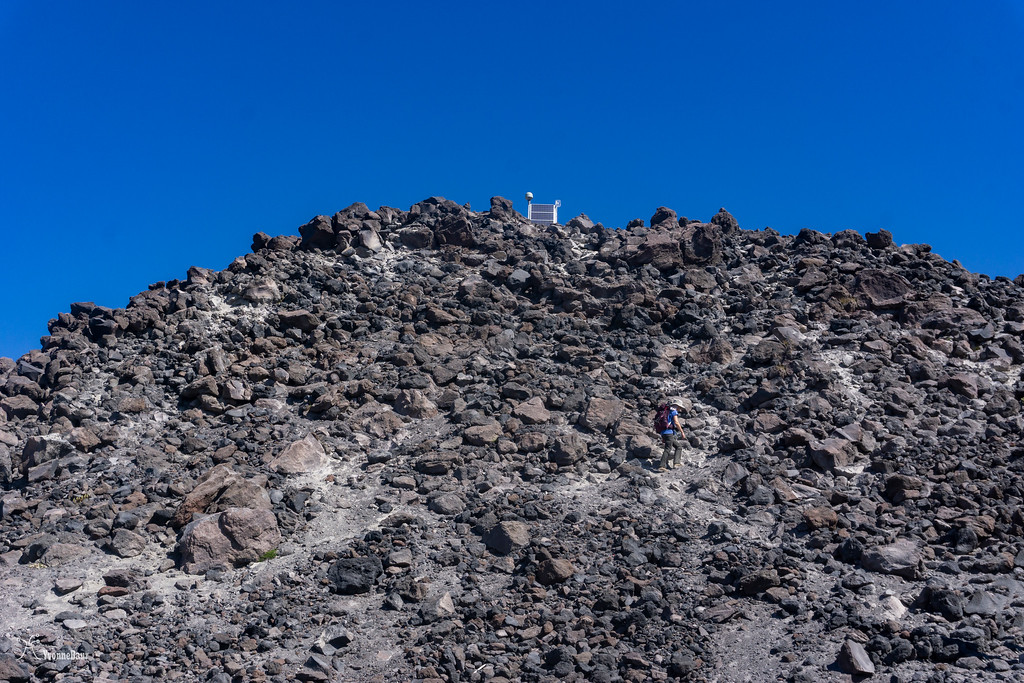 Selfie while I admired the view.
Here I rested for a bit and took my time. I was already halfway up, which was mind-blowing. I thought that the second half of the route would be easier, but I was wrong. From now on, the trail was just a simple route and continued to climb through sand and ash. The sand was so loose that each time I stepped forward, I slipped down, which felt like four steps. I had the feeling I would never move forward, but I actually did.
still, a long way to go, and it was steep, steep, steep
getting closer to the summit
And then, finally, I was on the rim!!! I made it!!! I can't describe how this moment felt; it was just glorious, and I was totally proud of myself.
What a view!!
Spirit Lake was just below me and seemed to be so far away. It's hard to believe that the pyroclastic cloud reached Spirit Lake within 2 minutes and inundated everything, creating a seiche, an inland tsunami that was 600 ft high.
I could look right into Mount Saint Helens Crater and its growing glacier. The glacier in Mount Saint Helens is one of the very few glaciers in the United States that is still growing. I sat down for a while and admired the view. It was so unreal. I finally realized one of my childhood dreams. I was totally humbled and couldn't describe the moment.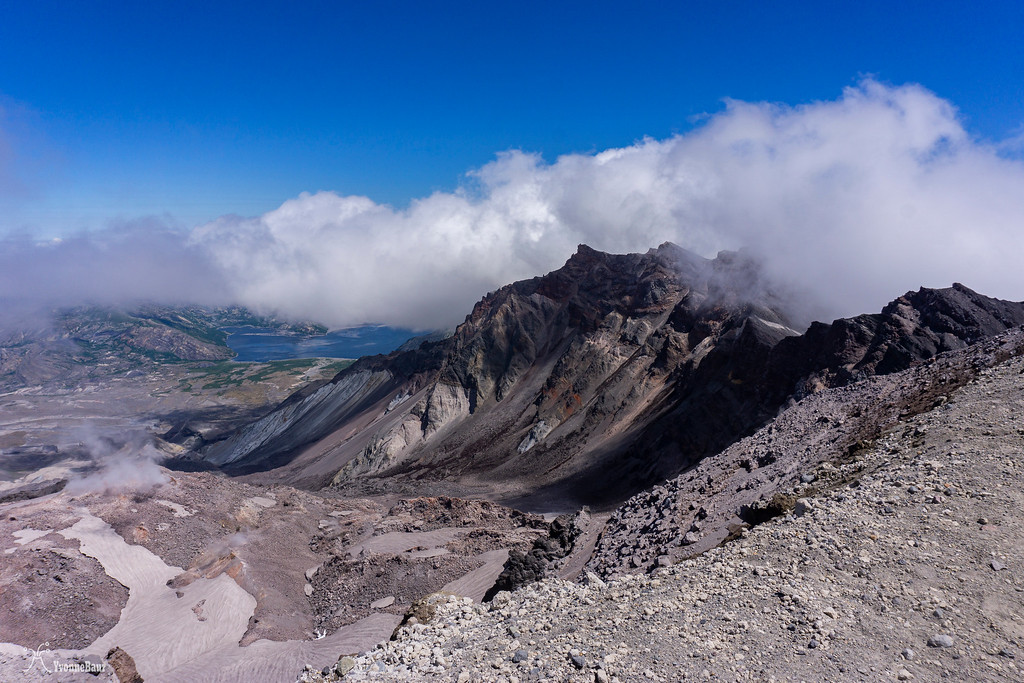 Crater Rim Selfie - and yes, I had to wear the T-shirt
view into the crater and towards the glacier
After I admired the view for a while, I went to the true summit. It was about a quarter of a mile and some scrambling away.
View towards the true summit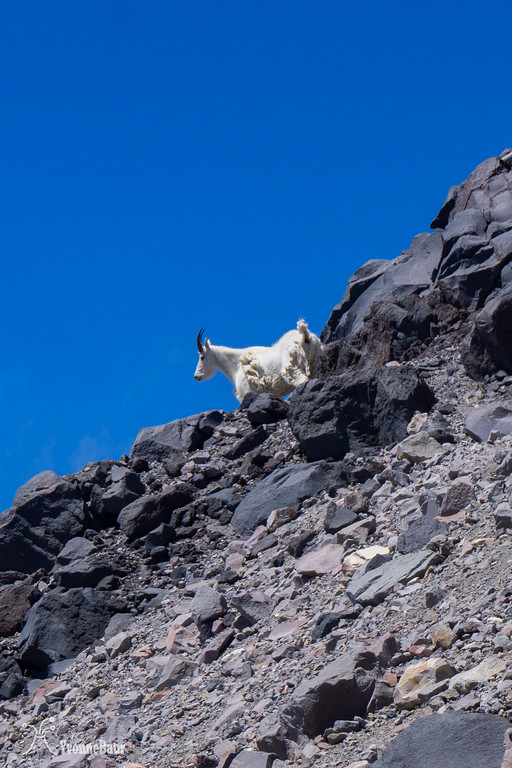 On the way to the true summit, I met one of the locals: he was definitely much faster than I did!! It was a pretty cool and unexpected sight.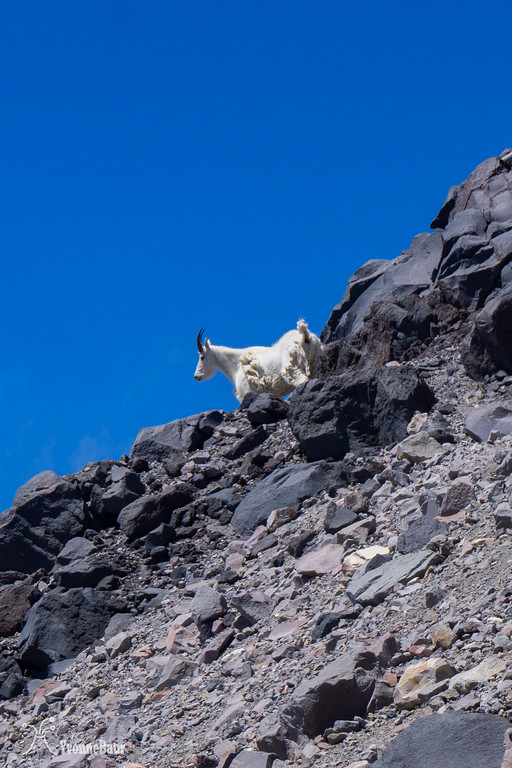 I met a local
Peekaboo!!
Mount Adams in the distance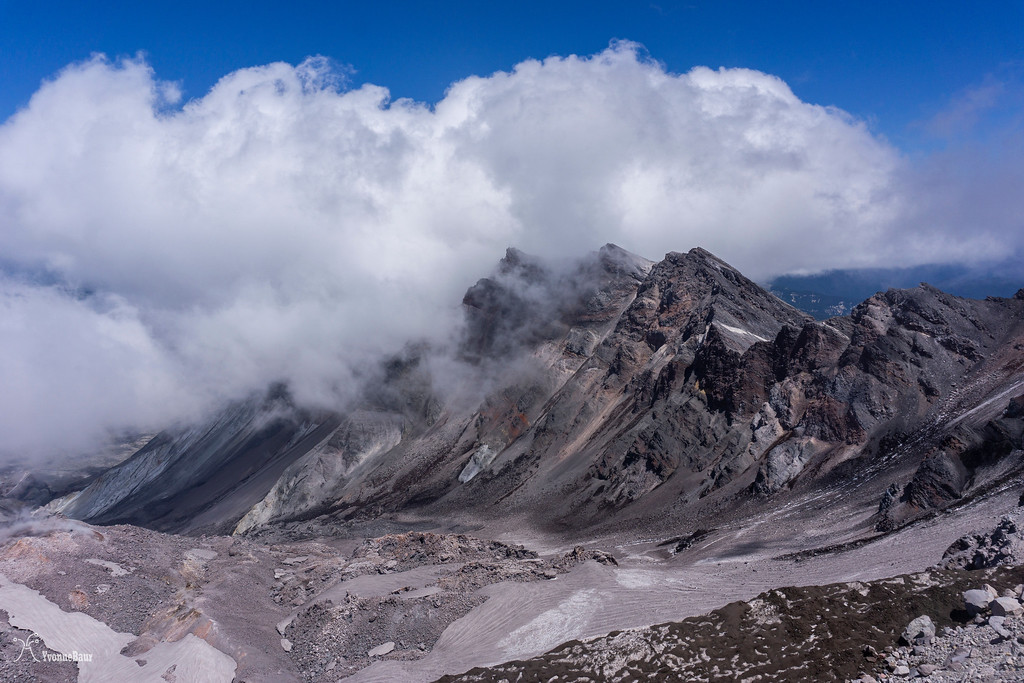 Looking back east
Selfie on the true summit
Mount Rainier in all its glory
I enjoyed the true summit for a while and was surprised that none of the other climbers went here. They all stopped at the rim, and that was it.
The climb down was steep, but with the loose sand and ash, it was more sliding down than walking and saved quite some time. Pretty soon, clouds moved in, and most of the climb down to Monitor Ridge was covered in clouds.
After I reached the lava rock scramble again, it finally cleared out again. It took my time going down because it was extremely hard on my knee, and I felt it.
Mount Adams
Later that afternoon, I was finally back at the trailhead. I made it and felt so proud and amazed. It was the most amazing hike I've ever done. I climbed 4.5 miles to the top, and I had 4500 feet of elevation gain. I pretty much walked a mile per hour. Negotiating around the lava boulders was tough with a partially torn tendon, but I safely made it up and down. This will definitely not be the last time I climbed to the top. I think I had the biggest smile ever on my face when I was driving back to my campsite.
I finally had climbed Mount Saint Helens!!! And I will do it again this year