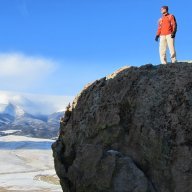 Joined

Nov 22, 2016
Messages

40
As part of my 40th birthday road trip I spent a few days in Montana. I spent a day in the Anaconda-Pintler Wilderness, mountain biked in Helena, and my final outing was a trip to the Gallatins near Bozeman.
Originally I planned on Hyalite Peak but Saturday of Memorial Day weekend scared me so I headed over to the East Fork. My significant other is named Heather. I saw Heather Lake on the map so it was a sign. I also saw some 10K peaks that could possibly be climbed in the basin.
I was on snowshoes within 20 minutes from the start and made my way 5.5 miles to Heather Lake- snow covered this time of year. Overlook Mountain (10,265') offered the best chance of a summit. I switched to crampons and got my ax in hand for the steep (climbing a ladder steep at times) snow pitch to the ridge before knocking out the summit. It's a beautiful summit with far reaching views despite some clouds. Saw a couple bighorns hanging out as well.
Click the link for the full complete trip report and all the photos. Here are a few photos as well.
http://tomcatoutdoors.blogspot.com/2017/06/climbing-in-gallatin-range-overlook.html