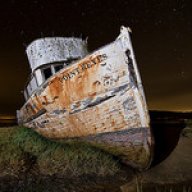 Joined

Jan 17, 2012
Messages

991
Clik Elite Hiker
MSRP: $310
Price Paid: $200
[parsehtml]Where you bought it: <a href="http://www.dpbolvw.net/click-5759616-10788082?url=http%3A%2F%2Fwww.bhphotovideo.com%2Fc%2Fproduct%2F629690-REG%2FClik_Elite_CE402GR_Large_Hiker_Backpack_Gray.html" target="_top">B&H Photo</a><img src="http://www.lduhtrp.net/image-5759616-10788082" width="1" height="1" border="0"/>[/parsehtml]
Manufacturer's Specs
My Rating: 4 out of 5 Stars
I
originally
purchased this pack for backpacking and long day hikes but it
quickly
became
my day to day camera bag. Over the past year and a half I have hauled camera gear all over Utah in this pack. The only con I have with the pack is that its slightly too large and a tad heavy.
In the lower half of the pack there is plenty of room for a pro body, 3 lenses, 2 flashes, flash triggers, a blower and a filter wallet. The removable dividers can be positioned in countless ways to secure your equipment. There's also a nice zippered pocket filled with small sleeves for memory cards, battery's, remotes, levels, and all that small stuff required for outdoor photography.
The top half of the pack has plenty of room for coats, lunch, water, snacks, and maybe even a bowling ball for good measure. For winter shooting I always keep the top half filled with my light snow/wind pants, down coat, gloves, and hat so its ready to go anytime for a quick spur of the moment sunrise or sunset.
The tripod mounts along the side of the pack, I'm not really a fan on the side mount but it works.
Side note: Clik Elite's customer service is amazing. After wearing a hole in the side water bottle pocket. I sent my hiker in for warranty repair. One week later I had a brand not click hiker sitting on my door step.
Cons
Heavy and the torso is a bit short. I'm 6'2" and it fits me perfectly when set to XL. If you are any taller you may have some issues when packing for miles on end.
Pros
High quality constitution and very durable
Very Adjustable
It holds everything and is very comfy on long hauls.
The Photos
Get the Clik Elite Hiker from one of these backcountrypost sponsors:
Amazon - B&H Photo