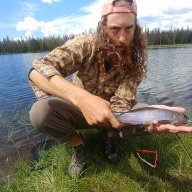 Joined

Feb 7, 2017
Messages

143
9 days, 7 canyons, 2 bodies of water. 75 miles traveled on a horse shoe adventure from Clearwater Canyon to Swett Canyon.

Starting on the border of Canyonlands, we dropped into Clearwater Canyon where after several rappels, we meet up with the Colorado River.
The River was brutally windy that day and poor Carlos was on the Klymit LWD while Jason and I were in Packrafts. When we finally got to camp, the winds had died down and it turned into a beautiful and clear night. Since it was so nice we all just set up our pad and sleeping bags on the beach and tuckered out. Around 1am the winds started up again and were blowing consistently at about 30mph. We woke up to sand blasting us in the face and sprinting over to the packrafts to tie them down, and then just stuffing my head into my backpack the rest of the night as we got sandblasted.
The river winded its way through orange cliffs as it brought us to Dark Canyon; a steep and deep gorge with a perennial stream and beautiful waterfalls.
Dark Canyon

It forced us to get a little creative with navigation. We reached the Sundance Trail , which is 1000 feet of elevation gain in 55 minutes, then we trekked across the desert to Horse Tanks Canyon which has a spectacular rappel at the end which drops you into White Canyon.
White Canyon has the notorious "Black Hole", and it did not disappoint. It was a little difficult with full packs, but an adventure not to be missed.
The Black Hole

Lower White Canyon has its own beauty and navigation problems. However, it ends all too soon, being swallowed up by Lake Powell, the next leg of the trip. Normally paddling across the lake is no big deal, right? Well, I lost one paddle blade in the Black Hole and broke the other one in the first five minutes of paddling across the lake to Trachyte Canyon, which leads us to Swett Canyon, and the way back to the shuttle car.
Last edited: