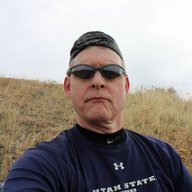 Joined

Dec 23, 2013
Messages

3,425
Usually, my hiking season ends on Thanksgiving morning with a short jaunt up Ensign Peak. But since we haven't gotten any new snow, I thought I'd extend my season by a couple of days, and who knows, if it doesn't snow in the next couple of weeks maybe even longer. I'll then slide into hibernation for a couple months with two or three key lime pies to get me through the winter and keep me in my happy place.
A month ago, I hiked up Grandeur Peak, and while eating lunch, I noticed to the east what I thought was a yurt near the summit of Church Fork Peak. So I decided to head up to Church Fork to see what I could see.
We hiked up the Pipeline trail from the trailhead and then turned onto the Burch Hollow Trail and took it to the top of the ridge. Once on the ridge, we dropped over to the north side of the ridge and made our way along, heading west to Church Fork Peak
A balmy 19 degrees at the trailhead
A wee bit chilly along this stretch of the Pipeline Trail
A look down Millcreek Canyon towards the Salt Lake Valley - notice the air quality for a later image
A look up Burch Hollow
The Burch Hollow Trail intersection with the Pipeline Trail
First good look at the summit of Grandeur Peak to the west
A lone conifer along the trail in Burch Hollow
Mount Olympus to the southwest
On the ridge at the top of Burch Hollow, with Grandview Peak to the north
Dipping down to the north side of the ridge where we encountered 6 - 10 inches of snow in the shady portions
Mount Aire and the top of Burch Hollow to our east as we hiked west along the ridge
And what do we have here? A yurt perhaps?
Definitely a yurt.
I'm not leaving until someone lets me in.
- Somebody's knockin'
Should I let them in?
Lord it's the Devil
Would you look at him?
I've heard about him
But I never dreamed
He'd have blue eyes and wear cycling tights!
Small aspen grove between the yurt and the summit of Church Fork Peak
The summit ahead
The summit cairn
Grandeur Peak to the west
The obligatory summit shot
Dale Peak along Parleys Ridge to the north - seen on our way back down
Afternoon shot of upper Burch Hollow
The inversion is setting in thick in the valley now.
Gobblers Knob to the south.
It had warmed up to 28 degrees in the bottom of the canyon when we returned to our car. It was perfect though when we were able to hike in the sunshine.