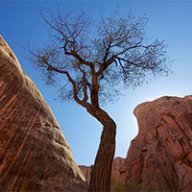 Joined

Aug 9, 2007
Messages

12,940
Anyone know anything about Chimney Canyon in The Swell? It's on the east side of Muddy Creek, a few miles north of Hidden Splendor. I'm thinking about backpacking to it.
EDIT - I did backpack to it and here is my trip report:
http://backcountrypost.com/forum/threads/chimney-canyon.784/
Check out this vague, but quite awesome, trip report:
http://blog.regehr.org/archives/603
And this interesting story:
How the BLM killed a cow to save a canyon and stop the paperwork
So my big question is, how best to access it? The most obvious route seems to be a 3 mile hike up The Chute of Muddy Creek from Hidden Splendor. But from the news article, maybe there is a better hiking route in from above? And perhaps the good stuff is all high in the canyon, not down by The Muddy?
If I go via Hidden Splendor, what kind of obstacles should I anticipate? It looks like flow is still quite low on The Muddy. Does anyone know if this is the correct river gauge to check?
http://waterdata.usgs.gov/ut/nwis/u..._cd=00065,00060,72020,00010,00095,00300,63680
Here is my map of the possible route.