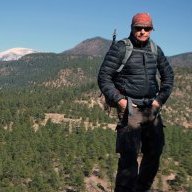 Joined

Aug 19, 2016
Messages

459
I undertook to climb Chimayosos this year. Alas it did not happen. Plans change, partners drift away. I decided instead in to reconnoiter the area with the goal of finding the best, and closest campsite, high in the timber. I found it and well made plans are now laid for next year. Chimayosos. It rolls off the tongue and fires the imagination. Named for "The People of Chimayo", so claims the book,
"Native American Place Names of the Southwest",
I can't find any reason to argue with it. This linked photo by A. Jackson Frishman sealed the deal.
http://www.summitpost.org/sunrise-on-chimayosos/794145
The path to Chimayosos goes up the West Fork of Rio Santa Barbara, As do two other forks in the Santa Barbara Divide. In New Mexico and perhaps other parts of the formerly Spanish world, Rio is useful to describe either rivers or creeks. That can be a problem. A rio could be the Grande, or a good place to fish for trout and in the case of the Santa Barbara, it's both depending upon the season and how much snow fall there has been. I'm guessing that is why the Forest Service built two bridges here. Alas one of them washed out and to add insult was smashed by wind fall. This made the proposition somewhat more complicated but we expected no trouble beyond wet shins this time. That is until we came upon the new bridge, finished a week ago, and Ian Barbosa, on a Sunday, putting some finishing touches on our bridge.
Forest Man Ian Barbosa in full uniform. This bridge will live in him forever.
Nancy on the new bridge.



Another view of our new bridge.




We head up to Pecos Divide Meadow. It's unnamed on any map. After all, the best names are known only by a few. Chimayosos on the right.
Near the top of the meadow. Chimayosos looms large.
The Rio Santa Barbara. No bridge needed here. Lens hood is needed however.

Nancy in the Santa Barbara divide.