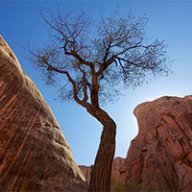 Joined

Aug 9, 2007
Messages

12,947
Hey everyone! It's been quite a while since I've posted much here but I've still been here in the background doing my thing. I just came back from a 4-month road trip to Alaska, and wow! I'm going to break my trip report dry spell for this one. At the very least I'm going to post a trip report from my 3-days in Katmai back in July.
But today I am here to ask for opinions and input from everyone here. I believe the time has come to refresh the look and feel of Backcountry Post and along with that, I think it's time to finally kick the cairn down for good. Back when the logo was created in 2012, the cairn felt more applicable to backcountry travel and far less cringe-y than it is today. But the explosion of unnecessary cairn building in the outdoors has cast a shadow on that and I think it's time to just kick it down and start fresh.
I'll be working in the background over the next month or two on this redesign but I wanted to start it off by soliciting you all for your thoughts, opinions, and creative ideas. What do you think would better represent the site? Do you like the dark background theme or the light background?
Oh, and here's a teaser from my Katmai trip. We drove almost 12,000 miles and spent 115 days on the overall Alaska trip and saw more bears than I can even count. More to come!