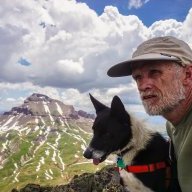 Joined

Mar 6, 2014
Messages

557
We were backpacking in the Roost this week. One afternoon two of us decided to explore a canyon that was mentioned as 'no rope needed' on the photocopied Kelsey map we had along. It turned very narrow, frighteningly narrow, and not being canyoneers we were relieved to finally pop out into the sunlight at the bottom.
Later at home we learned it's called Chambers and regarded as being of high quality.
Might have to get into this sport next.
A few feet in there was a chimney into a big drop. Done with that it was clear we were only headed deeper in if we wanted to live.
One of the many chambers the canyon is named after.

Stemming high above the bottom to traverse the skinniest section

Untitled
The last move is a 6' drop into soft sand
Last edited: