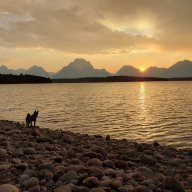 Joined

Jun 17, 2021
Messages

6
I'm heading out to Cedar Mesa soon. Should arrive in the area around 6/28 with the next week or two at my disposal. I'll have my dog with me as well.

I've never been to the area so I'm curious about potable water. I've consulted a few books and reviewed the USGS and BLM websites but still don't have certain points on the map to collect drinkable water. Most of what I've read is inconclusive after mid-June or otherwise states that the authors haven't ever observed the area in the off-season.

I have filtration but still would prefer to get to the cleanest available sources.

I expect it to be very hot and plan to cut my time short and head north to Ashley/Wasatch area for the rest of my time if/when it ends up being unsafe. I'll have 12 gallons of water with me as a backup so I'm not so concerned for the first couple of days.

Can anyone familiar with the area help me with more information on where to find drinkable water?

Another thing is the weather. While I spent the first half of my life cooking under the Texas sun, I don't think I've ever experienced the intense and dry heat that I expect in Cedar Mesa. Is this something I can reasonably expect to overcome with wise planning and careful shade breaks during the sun's apex? Or am I foolish to think I'll be okay just staying in the shade in the afternoons? Another wrinkle: how about my dog? I know that however well I adjust to the heat, it will be much harder for him. Is this a terrible time to be bringing a dog to Cedar Mesa even if he's only out in the morning and evening?

I plan to head up into the mountainous national forests after Cedar Mesa so heading up there earlier than planned won't ruin the trip if it turns out to be the safer move.