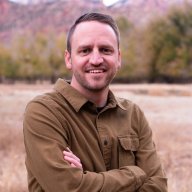 Joined

Mar 4, 2016
Messages

68
I had the chance to TA for a Wilderness Skills class that is part of the Utah Valley University Outdoor Recreation Management Major this past weekend. We had a fairly large group of 11 that went down. This was my first time visiting Cedar Mesa and I was beyond excited to see the Ruins in the canyon.
We set out on Thursday afternoon and drove down to Blanding. Once in Blanding we stopped and grabbed some burgers at one of the local shops then headed West to the BLM campground close to the Kane Gulch Ranger Station.
I had never been in this area of the state before and was blown away at how beautiful the Bears Ear's area is. This just got me more excited to get the pack on and start hiking.
We got our permit at the ranger station and headed to Cigarette Springs Road on Friday morning. We parked both vehicles at the first trailhead, threw packs on our backs, and headed down the trail. Within about 45 minutes to an hour we had already reached Fallen Roof Granaries. Talk about an amazing site! Early Native American history is something i've always been intrigued about. I was amazed at the thought put into how they constructed their dwellings and the granaries. I also could not believe how many ruins were still in tact and preserved so well.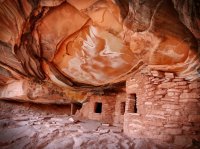 We planned to walk 8-10 miles that first day, but we we're cut short to about 7 after realizing that there really isn't many places for a large group to camp. We we're expecting a lot of rain all weekend, so we had tents with us, and finding rom for 6 tents was not easy. We came up on an open spot that wasn't super flat, but had obviously been a popular spot to camp as there was not Crypto covering the area. Everywhere else, the Crypto was so thick that you couldn't find a good spot to put a tent.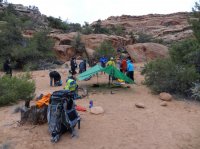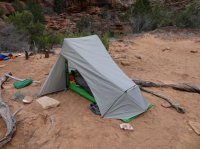 Day 2 was our biggest day. We went about 12 miles on Saturday. Our original plan was to do an out and back, but that changed after realizing that there were so few areas to camp as a group. So we planned to head down Road Canyon further to the confluence of Road and North Fork, at which point we would keep heading down canyon to then find a exit route out of the canyon to get up and back to the road. The plan was to get to the road and camp near the corral at Cigarette Springs.
Getting out of the canyon and hiking cross country was much more difficult than we thought it would be. It took us three hours to get out, passing packs, and finding a safe route. The other difficult part was finding a path through all of the Crypto. But we managed to make it out and eventually to the road after 11 hours of hiking.
On top of the canyon we were greeted with a couple pot holes full of water for us to fill up for the rest of the night and for the hike back to the car in the morning, and also greeted with a spectacular sunset after three days of overcast skies.
I'll let the photos tell the rest of the story, but Road Canyon and the ruins within the canyon were amazing!