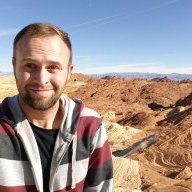 Joined

Jan 19, 2012
Messages

739
For the first of a hopefully annual tradition, brocation, my brothers and I decided to head to a part of the state none of us had ever been, Cedar Mesa.
After a long drive from Hurricane we needed a place to get out and stretch our legs. I researched the Irish Slots and decided that we could hike from the bottom into on or more of these slot canyons.
We finished the drive and camped off of cigarrette springs road, near deadeye's spot (PS thanks for all the beta/gps/everything). After quickly setting up camp we decided we had time to hike to one of the ruins near our camp.
It was starting to get dark and the wind had picked up dramatically (+- 30 mph gusts) so we didnt spend as much time as I would have liked to searching around this ruin.
After some warm oatmeal for breakfast we drove to the head of road canyon and hiked to the fallen roof ruins.
Continuing on past the first ruins we found another awesome granary. One of my favorite ones of the trip. You could still see how the ancient ones built it.
After these first ruins we ended up driving down butler wash looking for ruins along comb ridge. The first one we stopped at is commonly called Cold Springs Ruin. In 1892 a cowboy(?) carved this title on a rock in the ruin. The reason for the name is deep in the alcove there is a spring. I really liked this complex of ruins. Maybe my favorite of the trip. They were hard to photograph and the ruins themselves werent great as they had largely fallen over. What was great about this site is the amount of things here. Reasons why this site was so cool 1. Hand pictographs, 2. Grinding sites (there were more here then anywhere I have ever seen. Dozens of them!) 3. Corn cobs 4. A pretty well preserved kiva, well the foundation 5. The cowboy carving 6. The size of the alcove (looks like several groups lived here 7. The springs deep in the alcove.
Our next stop was to Monarch Cave. Monarch Cave, reminded me of the Citadel. It was a place that was that imo was built to run to when there was an outside threat. It would have been extremely easy to defend. We saw 2 other groups decide it wasnt worth scrambling into this ruin. One brother and myself did get up close to the ruin, my other two brothers stayed behind. The only thing that was cool about getting up to the ruin was a small roof section still intact, and a neat half broken metade. While it wasnt hard, one slip and there was risk of some serious, serious injury or worse.
Last stop for the day was the wolfman panel. This is/was one of my favorite panels I have ever seen. Some very unique petroglyphs here.
To get back up on top of Cedar Mesa we took the dirt switchbacks (cant remember the name) Even though the road was plenty wide and actually in great shape for a dirt road I was white knuckling and a bit puckered up before reaching the top! Some amazing views at the top though of Valley of the Gods.
Our last day in Cedar Mesa my brothers were pretty ruined out and with the though of a 6 1/2 hr drive to get home we decided to pack up early, stop by Mule Canyon (House on fire) and head for home. I wanted to look for some pretty cool ruins deadeye told me about but I guess I will have to save those for another trip!
Another quick stop to stretch our legs out was to see the hog springs pictographs.
Lessons learned
1. This area is awesome and there is soooooo much to see.
2. Focus on one area rather than a shotgun approach (driving to the comb ridge/butler wash ruins easily added 2-3 hours of drive time) I could have hiked to see many of the other ruins near where we camped instead of driving.
3. Bring good beta/trail descriptions.
4. Im sure I will think of more later
Featured image for slideshow: