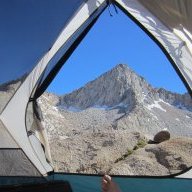 Joined

May 24, 2015
Messages

157
The west side of Catalina island is not easily reached for exploring. It faces the open Pacific ocean and has some very beautiful, seldom visited, beach campsites. Although only 20 miles from LA there are still a lot of isolated empty beaches. First you have to get to the island. We pooled our resources and rented a sailboat and sailed over in October 2017. Its easier to justify the expense when you consider the boat is both your transportation and your accommodations. Sailing over we saw numerous small pods of dolphins.
Rounding Lands end to reach the West side we spotted a couple of eagles on the ridge. When these birds are nesting they have their own internet webcam . I think they are celebrities on the internet...it was fun to finally see them in person.
We sailed into Cat Harbor on the west side of the Isthmus. The next day we rented mountain bikes and went out exploring, staying along the west coast.
Here is a great campground that comes complete with it s own Buffalo sentry.
This is Little Harbor Campground.
It was once featured in Sunset magazine as the best campground on the west coast.
There are good trails for backpacking into the campgrounds. We used the service road and the rental mountain bikes to visit the area for the day.
Here is another empty beach.
This is John Weston beach.
One surfer paddled in from an anchored boat.
We hiked down to the palapa on the beach.
There was no surf just an interesting beach break.
Back at the boat we watched the sun go down over the Sleeping Indian Princess . See if you can see a reclining princess with a crown, profile , bosom, and pregnant belly in the hillside.
Catalina can seem pretty crowded at Avalon but there is still a lot of uncrowded places to be found with a little planning and exploring.
Tim V.