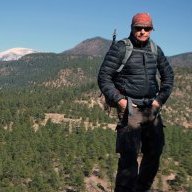 Joined

Aug 19, 2016
Messages

459
Cat Mesa sits in the Jemez Mountains of New Mexico. It is separated by the Jemez River Valley with Virgin Mesa to the North and Cat Mesa to the South. Ruins and artifacts of the Jemez Pueblo people are scattered over these mesas. The plan this day was to hike up to Cat Mesa via Pfeiffer Trail and go cross country to the small pueblo at the Southwest tip of the mesa. The Pfeiffer Trail is a mystery. Someone named Pfeiffer scouted and built it. He was probably from Jemez Springs, the nearby town. There probably were volunteers who helped him, but other than bits of hearsay and legend, I can find no other information other than it is not an official forest service trail. For the most part, it is well designed and constructed. It took a lot of time and effort. Enigmatic shrines are interspersed on the trail add to unanswered curiosity.
This is my fourth trip to Cat Mesa and the second time taking a hiking group there. On the inbound trip we used an alternate route that crossed a series of ridges and eventually intersects with the Pfeiffer Trail proper. This avoids a brush bashing arroyo crossing that engendered a lot of belly aching in the past. . This part of the route is difficult and I have been off route on three out of four times I have travelled it. Because of this I decided to do and alternate that avoids the arroyo. It was a good plan because we crossed a series of ridges with great views all around. oohs and ahhs rather complaints. That's how I like it. I'll bet Mr. Pfeiffer had considered it at one time and maybe considered moving the route here. We'll never know.
After intersecting with the trail proper, we moved on to the next obstacle and the crux of this trip. There is a 200 foot section of very narrow "trail" with exposure. It tends to slide out in places and has deteriorated over the years. Eventually it will break away requiring a re-route. We all made it of course but I stop worrying only after everyone has made the round trip through this section. Next is a steep climb up to the key that fits the lock to this whole journey. There is a break in the cap rock that gets you to the top without scrambling or exposure. I don't know how Mr. Pfeiffer found it. It must have take some effort because I have found no other break like it in this area. Kudos to you sir wherever you are!
Once on the mesa top you are in heavy PJ forest that is otherwise featureless. There is a recently well maintained forest road across the mesa top but no other landmarks. You have to know where you want to go here and how to navigate. Luckily the best of the sites we wanted to visit is on a the far Southwest tip of the mesa. That's where we went. After a brief stop at a field house and ancient agricultural site we came to our goal. It's got a name. I don't know it. Some of the room blocks and the kiva are exposed from pot hunting or archaeological excavation and perhaps both. It's a spectacular location, one I had wanted to come back to since my last visit three years before. After lunch at the tip of the mesa, we started back with side visit to another large field house. We were able to visit three of the five sites on the mesa. Not bad.
We used the standard Pfeiffer Trail on the return looking for a better crossing of that dreaded arroyo. This time I think I found the best crossing because there was barely any pain at all and only one comment about why we were going that way. We came out right by the cars.
This hike was far shorter than I had planned for, mostly because we skipped those other sites. It is still long and hard though. Miles mean nothing in hard climb and rough terrain that happens to be very scenic. Our total stats were 7.66 miles, 2025 feet of ascent, and hike time of 7 hours and 30 minutes.
Jemez River Valley from the ridge route.


Lisa, Tracy, and Shuhrong coming off the high point on the ridge.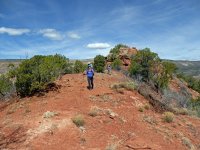 Lisa at one of the room blocks.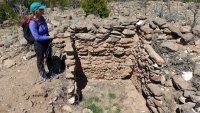 CK at the kiva.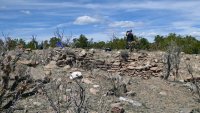 Jim and Lisa at the pueblo edge.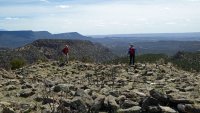 Shuhrong at the edge.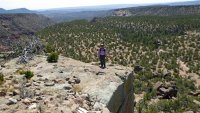 Look back to the ridge route. Virgin Mea in the background.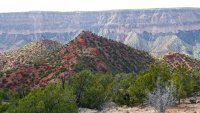 Google Earth track.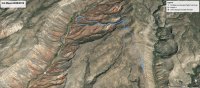 Here some my companions took:
Photo Gallery
Last edited by a moderator: