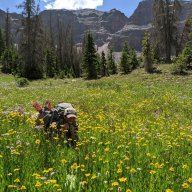 Joined

Feb 12, 2014
Messages

751
April 14-15, 2017
I finally made it to Capitol Reef NP! After looking thru this website and asking around I decided that Upper Muley Twist was the way to go for a full day hike. I went with a friend of mine and his 11 year old daughter really wanted to come too, so it was the three of us to make our way to Capitol Reef.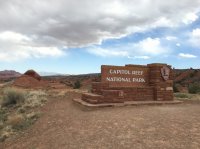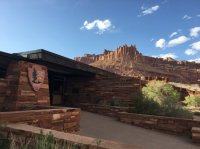 This is the visitors center in Fruita. AFter watching the video, buying my sticker for the ole garage fridge we went back to Torrey for dinner. We decided on Slackers, who doesn't love a burger?!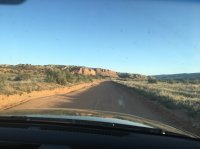 After dinner we headed to the Cedar Mesa campground for the night. I was hoping for an open campsite, but we had no luck, they were all taken...we kinda expected it though.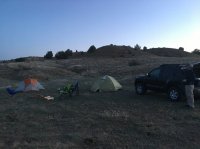 We did find a great spot not too far outside of the park boundaries though. Honestly, this was probably better than Cedar Mesa anyway.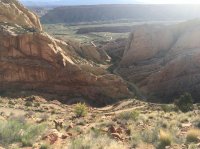 Got up bright and early and made our way to the trailhead. This is looking down on the fun switchbacks on Burr Trail Road.
Arrived at the trailhead, and I was glad we used my friend's Xterra instead of my Outback. I'm sure I would have made it, but I would have had some dings and scrapes where the Xterra did it easily.
Here are some photos of the hike, one thing I didn't realize beforehand was that there isn't a trail. You just follow the wash on the Canyon Route, and on the Rim Route you follow cairns.We made a few wrong turns but the area was so cool they were all well worth the extra time exploring.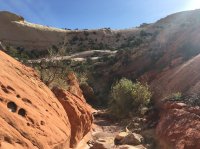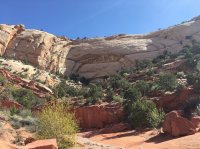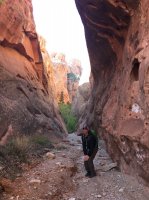 Once again using the proper photo posing position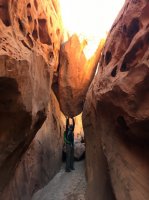 I decided to hold this rock so the others could pass.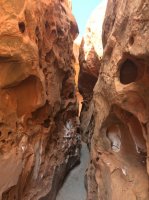 These Swiss Cheese slot canyons were the highlight. They are amazing! We missed the turn off to go up to the Rim Route and wandered thru these as far as we could. Realized we missed the turn off and went back to where I thought it was. It's marked by some cairns. If we would have started on the rim and then came down to the canyon we would have probably missed this whole section.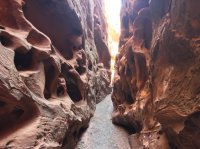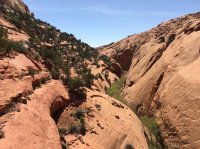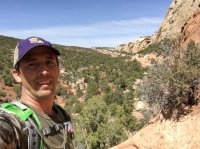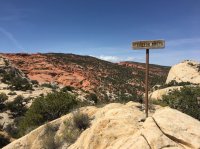 There is a sign at the top telling you where to turn to go down though.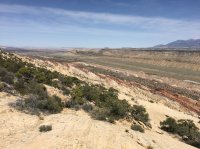 The waterpocket fold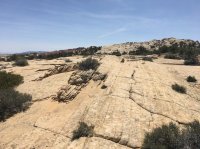 This is what most of the Rim Route looks like.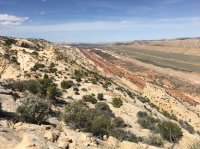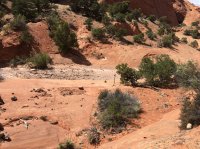 Finally made it back down to the canyon floor!
The whole trip we did about 12 miles. It was one of my favorite day hikes in Utah. Great scenery and very few people.
We made our way out and headed home. We ate in Torrey again at a cafe, good not great food. But it was still a great trip I highly recommend.