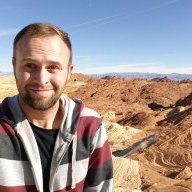 Joined

Jan 19, 2012
Messages

739
So I work part time for a company called Ultra Adventures. They do Ultra trail marathons mostly in Utah and Arizona. Last weekend I marked a 20 mile section of their "Capitol Reef" races. The crappy thing was to mark this section it was easier to just carry everything than do a drop in the middle. Which means my 55l pack was stuffed full of marking material. Weighed over 20lbs. By the end of the day I was in pretty bad shape. Fortunately I didnt have to carry much water, because of all the lakes and streams, my steripen did great.
None of the races are in the National Parks but are always adjacent to them but for name recognition in general the races are named after the nearest national park. Many people have heard of Capitol Reef, not many have heard of the Aquarius Plateau. Same with Grand Canyon and Kaibab...
Anyway my section started near Beaver Dam/Fish Creek on the Northern section of the Aquarius (AKA Boulder Mtn). It mostly followed the Wildcat Trail, Government Creek Trail and the Great Western Trail.
We saw a few people near the first couple lakes (Fish Creek, Donkey) and especially near Left Hand Reservoir but other than those small sections didnt see a soul.
I wish I had taken some pics near Government Creek. This was the prettiest section of the trail. An eden of ferns, moss, running water, etc but also thick mosquitos. So we had to keep moving. From Govt Creek we rejoined the Great Western and dropped into Torrey (Red River Ranch). It was a sunup to well past sunset day and I was glad to be done but seriously I am in love with Boulder Mountain. I know that there are roads and trails but most of the Wildcat Trail and Government Creek area would be prime backcountry backpacking with no roads.
Anyway here are some pics.