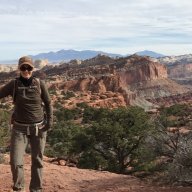 Joined

Sep 7, 2014
Messages

145
Graffiti vandalism strikes again. Someone left their oh-so-important mark on
Temple of the Moon, one of the monoliths in Cathedral Valley in Capitol Reef National Park.
They gouged it in really deeply too. It will be very costly and time-consuming for the Park to fix. I am so very angry about this. I hate all vandalism in our natural public areas, but admit it strikes me even harder when it's my "home" park. And Cathedral Valley is so remote. Its remoteness makes this almost worse. No one is going out there to see some modern a**hole's marks on the rocks. But it's becoming so much more known and popular for people to go out there, which unfortunately means some jerks like this make it there too.
Anyway, thought I'd post about this here on the probably very off chance any BCP-ers were in that area last week (possibly June 6, maybe June 4) and saw any activity they might be able to report to the rangers, or happened to snap a pic that inadvertently had someone in the area who might have been the responsible party. You never know. Park investigators can sometimes do an amazing job tracking down offenders via social media, because idiots often post public photos of themselves doing illegal things on public lands. I once was out there with clients and we saw a boatload of tents set up right at the base of the temples (yeah, not allowed). I got pics of all of them plus the license plate of a car parked out there. When we got back to the visitor center I reported it and gave the pics to the rangers, but by the time a ranger got out that same afternoon, they'd uprooted and left.
Anyway. More education for the general visiting public is needed, apparently. You'd think people would understand not to do stuff like that, but apparently not.