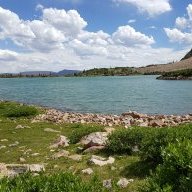 Joined

Aug 8, 2016
Messages

2,071
I recently was able to spend my first time at Capitol Reef National Park and enjoy the splendor of the area around Fruita. I got to try out many of the area trails during my stay. Each one was enjoyable and unique but II have to say that the Navajo Knobs trail was my favorite of them all. Here are some highlights of that hike.
A view of Hickman Bridge. I didn't realize it could be seen from this trail until I ran across the sign...
Some of the fantastic eye candy along the way. Love the fine layers...
A view of the Henry Mountains with a fresh dusting of snow...
The weather had been less than ideal with the day starting off with light snow and cloudy most of the day. Got a little window with some blue sky and sunshine. I think this is my favorite part: the blue sky and red rocks...
From the Rim Overlook. You can see the switch backs of the Cohab Canyon trail rising above the campground area...
A very curious formation. For some reason it reminded me of the B.C. comic strip...
Looking down at Castle Rock and with my destination in the upper right...
The Knobs...
Made it to the top!
Another view of the Henry Mountains over the Water Pocket Fold...
The Chimney Rock Loop Trail circles the flat area with Chimney Rock Canyon taking off to the right where it meets the cliffs...
So much eye candy everywhere you look...
A video of the hike if you like...