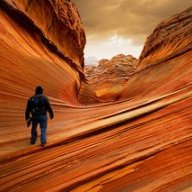 Broadcaster, formerly "ashergrey"
.
Joined

May 5, 2012
Messages

1,724
This trip had been one I started thinking up the previous fall during a visit to Bryce Canyon National Park with my father. Having scouted around on the internet and Google Earth, I became set on the idea of visiting the Cosmic Ashtray (aka Escavolcano) via Red Breaks. Descriptions of Red Breaks made it sound close to my skill level… something with some minor boulder problems but nothing technical. I also wanted to introduce a female friend to the southern Utah backcountry. She's a girlie-girl, the type to wear heels when invited on a hike. Red Breaks would be a stretch for her, but I figured I'd be there to make up the difference. This was my first error in judgement.
We headed out from Salt Lake City late Thursday afternoon and drove to Torrey, where we spent the night at the Best Western. The following morning we set out to hike down Sulphur Creek in Capitol Reef National Park. Weather in the morning was overcast but not threatening and the skies opened up after 20 or 30 minutes on the trail. Temperatures were chilly but not cold. There was still a good deal of ice on the creek in sheltered areas that lacked much sun. We worked our way down the creek at a leisurely pace, enjoying the sections where sun did reach the canyon floor.
Upstream
by
ashergrey
, on Flickr
The waterfalls were spectacular. The first proved easy enough to circumvent, and doing so offered a great view of this gnarly old log.
The Log
by
ashergrey
, on Flickr
The first falls of Sulphur Creek
by
ashergrey
, on Flickr
Sulphur Pool
by
ashergrey
, on Flickr
Downstream
by
ashergrey
, on Flickr
My friend did fine getting around the trickier bits and this bolstered my confidence that Red Breaks would be no trouble.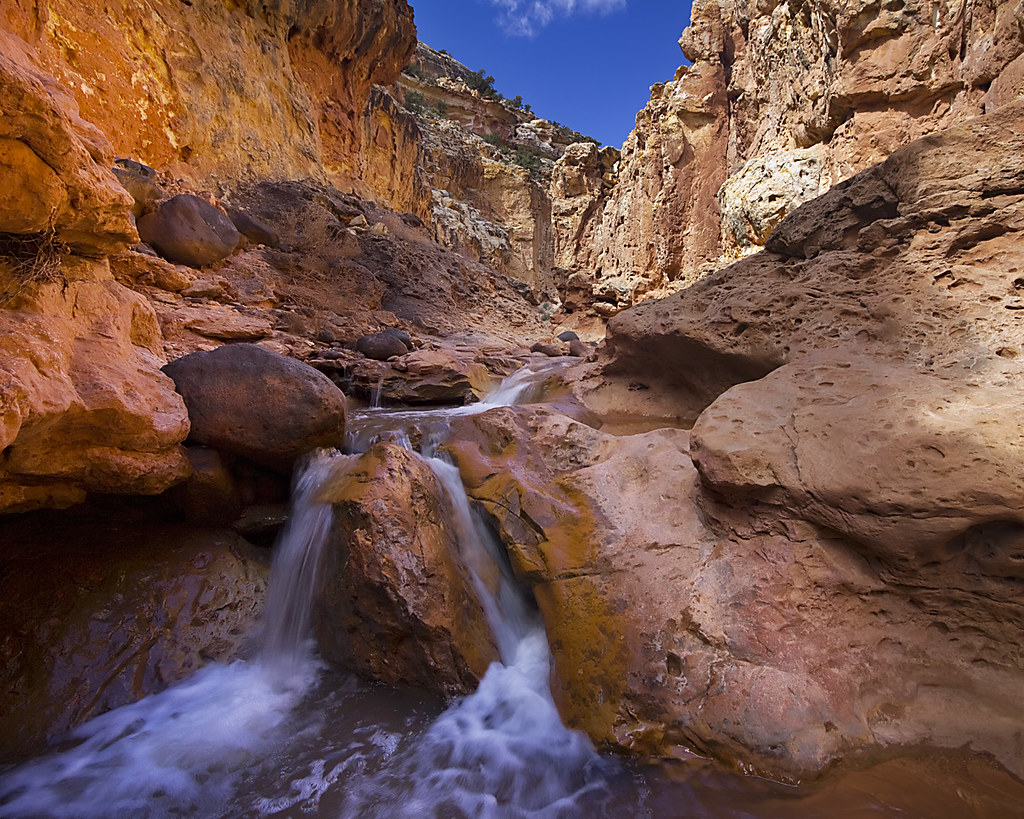 The second falls of Sulphur Creek
by
ashergrey
, on Flickr
We reached the end of the trail at the visitor's center near Fruita around noontime. (
GPS track
)
Distant Castle
by
ashergrey
, on Flickr
Trip reports I'd read online mentioned that it's best to have a car shuttle for Sulphur Creek, but that hitching a ride usually isn't a problem. Well, that wasn't the case for us. The only people at the visitor's center in late March were tour bus patrons from out of state. Discouraged, we set out walking back to the car up highway 24. Let me tell you, that is a long, awful, uphill walk. No one stopped for us as we hitch-hiked (something I never do and something that terrified my friend).
To make matters worse, a storm was blowing up from the south. We could see it crashing into the cliffs behind us and before long the wind started.
Storm on the Reef
by
ashergrey
, on Flickr
Then came the rain. It was cold, pelting and blew sideways. At last a park service employee headed home pulled over and offered us a ride, long after we'd both given up on hitching. We crammed into her sub-compact and appreciated every foot of ground it helped cover.
We ate a hasty lunch at the car then set out down highway 12 over Boulder Mountain. Rain and snow fell heavy for a bit, then the storm broke and we were treated to excellent views. Winter snowpack at the upper elevations still stood several feet deep and parts of the road were snow packed.
Capitol Reef from Boulder Mountain
by
ashergrey
, on Flickr
By the time we reached Boulder, you'd never have known there had been a storm or snow. It was bright and hot, feeling more like May than March. I was really excited to show my friend the drive between Boulder and Escalante, as it's one of my favorite landscapes in all of Utah. I filmed a portion of this drive, up to the point we stopped at Lower Calf Creek Falls (mute sound... it's just wind noise).
The Bend
by
ashergrey
, on Flickr
We hiked to the falls in the late afternoon, enjoying solitude. The falls themselves were good but not great. Much of the foliage had not yet greened up for the spring and the light was terrible for photography at that time of day.
Another shot at Lower Calf Creek Falls
by
ashergrey
, on Flickr
Sore-footed, we made our way back to the car. My friend started getting hotspots on her heels, but refused to use the blister prevention bandages in my first aid kit. She insisted on stuffing grass into her shoes instead. We joked about it, but I also made a mental note of this... potential trouble. (
GPS track
)
We rolled into Escalante after dark and checked into the little motel. The following morning started just as the previous had… with overcast skies spanning horizon to horizon but nothing that seemed to threaten an actual storm. We set out down Hole in the Rock road, turning off onto the Harris Wash road and driving its rocky length to the "trailhead". I parked on the sandy bank above the wash, which is wide and shallow at that point. It's easy to see see that a lot of water flows through it when it's filled to capacity.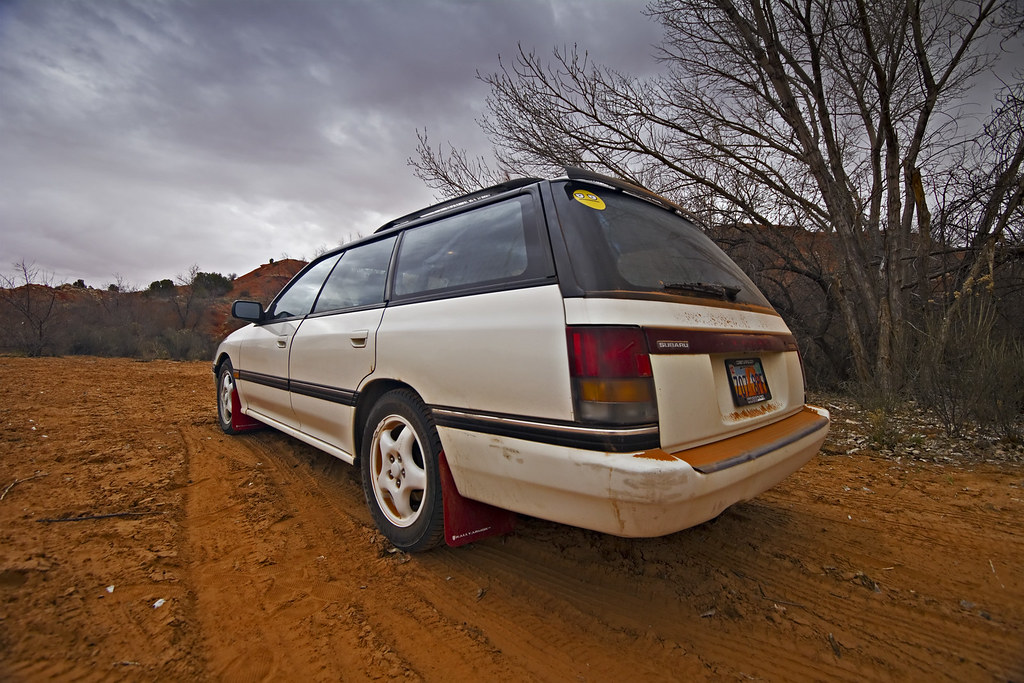 Parking Lot
by
ashergrey
, on Flickr
The skies had not yet started to break and I had a choice to make. Caution told me to bag the trip into the canyon and head elsewhere. Still, I figured the day was young and the clouds were still high and non-menacing. And so, I decided to make a go of it. This was my second error in judgement.
We crossed the wash. There were piles of manure everywhere but we didn't see any cattle. We wandered around a little bit after crossing the wash, not finding our way into lower Red Breaks without a little GPS assistance and a bit of dead-reckoning. Eventually we started seeing water-carved sandstone and the walls, while not overly tall, did start to constrict a bit.
Sculpted
by
ashergrey
, on Flickr
Main Fork of Red Breaks
by
ashergrey
, on Flickr
When we at last reached the main fork slot I began to realize the error of my thinking. Wind started to breeze through the canyon. The clouds had not broken and seemed to settle lower to the ground, though it was difficult to tell from inside the slot. We moved up some minor chockstones before getting stuck on a set of boulders that were more of a problem than I'd anticipated. We spent a good amount of time trying to work our way up and over without success. In the end, I had to wriggle up a small hole between two rocks. When pinned between them, legs dangling useless below, the thought crossed my mind that
this is the most stupid thing I've ever done
. One shift of those rocks and I'd be dead.
Squirm
by
ashergrey
, on Flickr
Once above, I anchored a rope and lowered it to my friend. No good. She couldn't get up. We burned more time trying to get her over the top but had to concede she'd have to come up the same way I had. Trouble is, she got stuck worse than I had. Then she started to panic. Not good.
Chockstone
by
ashergrey
, on Flickr
Only by me pulling until she yelped was she able to squeeze through the opening. Now my troubles started to compound. She was exhausted physically and emotionally. She became quiet, only speaking to quip or criticize. Small flakes of snow were falling from the oppressive clouds, evaporating in mid-air before us. I put on the cheeriest face possible as we trudged further up the slot, not wanting her to realize that I was becoming very concerned about the danger of being in the canyon when it started to flow with water. But we ran into two more obstacles that slowed our progress, each made more difficult by shortened tempers. Her sore hips and boots made slick by sand kept her from stemming up passable rocks. At one point with me at the top and she at the bottom, I heard her sobbing as I set a rope anchor.
I knew that if we could make it to the top of the main slot, we could exit the canyon early. The hike became a race against time. By now the snow was no longer evaporating, but instead wetting the rock. The camera went into the bag... no more time for pictures. Also, I lost GPS signal for good here. (
GPS track up to that point
)
Red Breaks forks about halfway up into three upper sections. The plan had been to enter the left (aka west) upper slot and navigate to its end before crossing overland to the Cosmic Ashtray. To enter the left fork, one must bypass a dryfall by exiting up a slick rock slope, then re-entering the slot on the far side of the fall. This path now became our emergency way out. To my great relief, we reached the top of the slot and I explained the exit strategy to my friend.
The slope is not overly steep to walk up, especially at an angle, but it could feel uncomfortably steep to descend. The weather and our sense of rising panic only heightened that sensation. I instructed her to keep her eyes directed up and to follow the path I traced. We needed to come up about 75 feet in elevation but would attack the slope obliquely to keep the climb moderate. I started out first, following the flattest grooves I could find in the rock. An outcropping stood about a third of the way up and I made this my target. She followed, hesitant and slow. About halfway to the rock she sat down on the slope and started untying the laces on her boots.
Horrified, I turned back and begged her to stop. She refused, saying she couldn't get grip on the rock. Given her emotional state I couldn't argue, only try to help as best I could. When she finally made the rock outcropping, I moved ahead to the next safe spot. Now she refused to move. She sat with her back to the rock and cried. In my most soothing yet frantic voice, I explained to her that she was safe, that there was no way she could be dislodged from that position. I set a rope as a hand-assist and tossed it down to her. It landed within three feet of where she sat but she refused to grab it.
Uh oh.
I had to draw the rope back and rethrow it a few times until it hit her before she'd take it in her hands. With my encouragement she then stood and moved up the rest of the slope. I at one point offered her my hand as an assist and she snarled at me not to touch her.
So yeah, things were going well. By the time we reached the rim of the canyon, the light snow had become steady.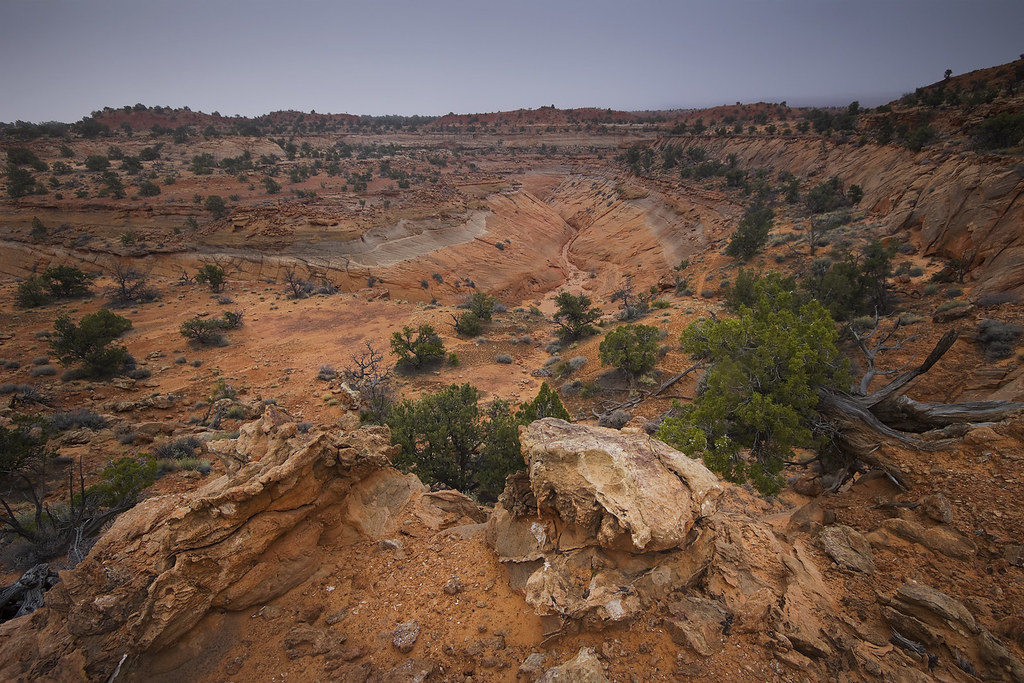 Escape from Red Breaks
by
ashergrey
, on Flickr
The flakes were fine at first, wetting the sand and turning it to mud. They became heavier as we started marching overland amidst the grassy brush and prickly pear patches. Every bush was loaded with water and as we moved past, it transferred to our clothing. Both of us were soaked to the knee and our shoes (which she had re-donned) were weighed down with thick globs of mud. Walking over rock became treacherous because we had no grip. I gave her my gloves and poncho.
The cloud cover became so thick that visibility was reduced to about 200 feet. As I mentioned GPS had stopped working. I knew roughly where we were but was forced to use dead reckoning to navigate our way back to the trail head. Red Breaks runs roughly north-south and I knew that we exited to the west. Thus, as we walked south I knew we couldn't get lost as long as I kept Red Breaks to my left. This was difficult though because we continually came across tributary canyons that blocked our way, forcing us to march north and west away from our goal.
I kept up the banter during the death march, trying to lighten her mood and keep her mind off the situation. Still the miles dragged on as she shivered and I tried to hide the fact that I was miserably wet. We at last descended back into Red Breaks near its foot, where it is wider, and walked alongside the stream of water that had started running out of it. The stream moved at about a walking pace and we were at its head, watching as it picked its course. This wasn't flash flood flow in the wider section, but still enough that had we been in the more constricted slot it would have been dangerous or deadly.
When we reached Harris Wash it was also flowing with a stream about five feet wide. This swelled to about 10 feet within minutes of our crossing.
Back in the relative safety of the car, we bundled up, ate food and ran the heater at intervals to bring our body temperatures up to normal. The storm continued for a couple of hours. I kept hoping for a break but feared that we'd be stuck having to spend the night in the car. It seemed better to wait out the storm than risk running off the road on our way back to the highway.
Just before dusk the snow stopped and the clouds started to break. We made a run for it. The Harris Wash road was a muddy mess and it took a fair amount of concentration to keep the car going in a straight line.
I stopped only once… when the scenery became so breathtaking that I figured it was worth getting bogged down in the mud for a chance to admire it. I sat on the window frame of the car door to take this shot.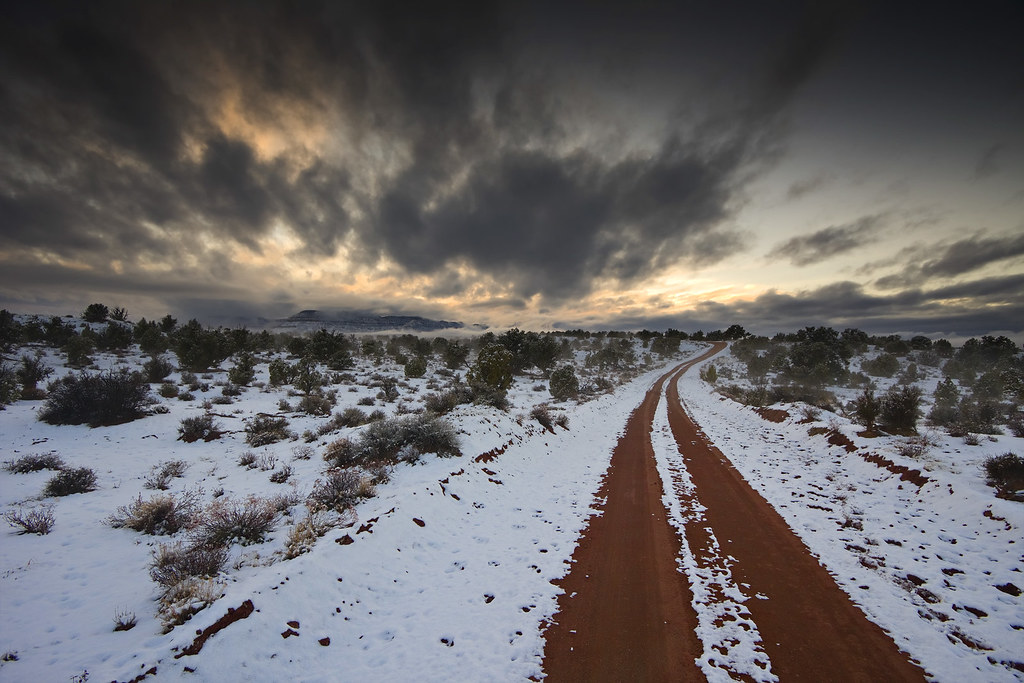 Desert Road (Explored)
by
ashergrey
, on Flickr
Totally spent, we made it back to the highway at twilight. A drive still awaited us though, as we had reservations that night at Ruby's Inn.
Months later I was replacing the suspension on this car and was pulling rock-hard clods of dried mud from the spring perches. That stuff dried like concrete.
My shower that night at Ruby's was one of the best of my life. We slept in the next morning. Neither of us wanted anything to do with hiking, but I made her come along for a view of Bryce Canyon. We drove along the rim, stopping at the viewpoints. Bryce was coated in fresh snow. My friend couldn't understand why I hadn't just skipped all the other stuff and taken her here in the first place.
Contrails Over Swamp Canyon
by
ashergrey
, on Flickr
My experience in Red Breaks was terrifying and I'm grateful it didn't end up worse than just this lengthy story. Watching a canyon like that go from dry to running with water is an awe-inspiring event that I don't know I ever want to experience again.
Featured image for slideshow: