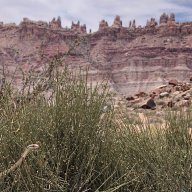 Joined

Apr 18, 2022
Messages

16
I plan on doing a 5-6 day solo packrafting trip in Canyonlands in the next few weeks. I am currently working out potential routes and I wanted to share what I have so far and get some feedback. This is an overview: I would start in Island in the Sky, float to the Maze, then come out in the Needles.
Day 1 I would hike the 10 miles down Lathrop Trail, then take Lathrop Canyon Rd to get to the Colorado River where I would camp for the night.
Day 2 and 3 would be spent rafting down to Spanish Bottom. It is 30 miles to get there, so I will be doing around 15 each day.
Day 4 would be a day in the Maze! I have read reports of people caching their main gear at Spanish Bottom and heading up with the essentials for a day hike, but that worries me a little bit. I was also not seeing much guidance in terms of the best spots to check out in the Maze, so the 10 mile loop on the map below is what I came up with. Let me know if there is a better way to see the Maze in a day from Spanish Bottom.
Day 5: Cross the River and take Red Lake Canyon Trail into the Needles. From there I planned to hike to Elephant Hill TH to finish my hike, while taking a short detour towards Chesler Park. This route is also 10 miles. If I am missing any must-see views in that area that I could re-route to see, let me know. I am not set on lending at the Elephant Hill TH.
That concludes the rough draft. This plan only includes 5 days, which brings up the possibility of another night. I don't live too far from the Needles, so I think it would be worth it most to do a night in the Maze rather than the Needles. If anyone has ideas towards 12-20 miles of the Maze I could do as an overnight (coming from Spanish Bottom) let me know.
I'm all ears towards what you all think of this route, especially those who know the park well; I have only visited Island in the Sky.
Side note: I have looked into the Figure 8 and it's a bit more than what I want to take on for a solo trip. My limits are around 10 miles of hiking or 20 miles of paddling in a day.