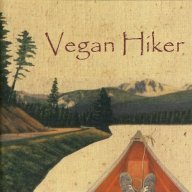 Joined

Jul 5, 2014
Messages

2,099
This is Part 1 of a four-part trip report covering a two-week backpacking and canoeing trip in April of 2016. I covered 134 miles on the trip, mostly in Canyonlands National Park. Of these 134 miles, 82 miles were spent backpacking and 52 miles were spent in a canoe. The first week of the trip was a solo backpack in the Needles. I then exited the desert to meet up with @Chuck the Mauler and two of his buddies from Michigan who joined me for the second week of the trip. After meeting up with them, we spent a night camping outside of Moab before kicking off week 2, which consisted of a 3-night river trip down the Colorado River from Potash to Spanish Bottom, followed by 4 days backpacking in the Maze.
The four reports are organized as follows:
Part 1 – From NYC to Elephant Canyon (Currently Viewing)
Part 2 – Chesler Park and Druid Arch (Click HERE to view Part 2)
Part 3 – Colorado River; Potash to Spanish Bottom (Click HERE to view Part 3)
Part 4 – The Maze District (Click HERE to view Part 4)
An extra big "thank you" to all of the BCP members who helped me plan this trip. Especially @Nick, @slc_dan and @Joey for patiently answering all of my questions (for literally months) and all the members who authored the dozens of Canyonlands trip reports I was able to pore through.
Part 1 – From NYC to Elephant Canyon
This trip came at a very curious time in my life. Some would say the timing was terrible but as the desert would soon teach me, the timing was veritably perfect. I was going through several big changes in my life I hadn't anticipated when I planned the trip. For one, my wife and I were in the midst of a home purchase. We literally made it out of attorney review and had the home inspection the day before I left. I felt guilty leaving her to deal with everything on her own. I was also in the middle of coordinating a career change to transition from one University to another. Lastly, I was racing a deadline to submit application materials to begin doctoral study in the Fall. As I'm sure many of you would attest, time alone on the trail can help put life back into the proper perspective. It curbs unnecessary worry over things that are out of our control, teaches you not to sweat the small stuff, and most importantly, it reminds you to slow down, enjoy each day, and to not take the simple joys in life for granted. Life on the trail isn't complicated and I always leave with a renewed sense that life back home really isn't either. The timing of this trip turned out to be a blessing in disguise.
Okay, so about the actual trip. I had permits to do a 6-day backpack in the Needles my first week. My connecting flight in Denver was cancelled the day before leaving due to a snow storm and I was rescheduled on a flight that connected in Dallas but that landed in SLC several hours later than I had originally planned. This meant I wasn't going to make it to my first reserved campsite in the Needles on day 1 (campsite BS1). Instead, I took @Nick's advice and took the longer drive down around the west and south end of the park through Hanksville and Blanding. I camped on BLM land just south of Hanksville my first night instead (
@Nick
was nice enough to share some campsite coords) then drove through the Glen Canyon National Recreation Area and the White Canyon area the next morning before starting my hike in the Needles a day later than initially planned. This worked out great because I got to drive through some spectacular country and caught right up on my hiking schedule my first day in the Needles anyways.
The open road just south of Hanksville.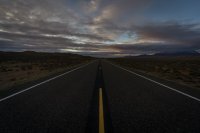 I camped on BLM land near the Little Egypt Geological Site south of Hanksville. It was pretty windy and got a bit colder than I had anticipated (low 30's).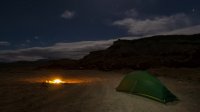 There was a nice sunrise the next morning. The two pictures below are of an interesting formation down the dirt road from where I camped.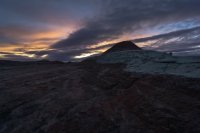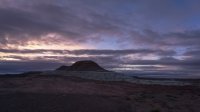 I hit the road early the next morning. I still had a 3+ hour drive to the Needles trailhead. Since I was starting my hike a day late and had some miles to make up, I wanted to be on the trail by noon at the latest . I also wanted to stop at a few spots to soak in my first look at the Glen Canyon National Recreation Area.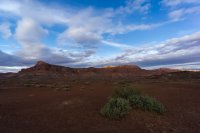 As per
@Nick
's suggestion, I stopped at the Hite Overlook. Apparently Hite was a small city on the other side of the Colorado River in the picture below. When the Glen Canyon Damn was erected the city became submerged under Lake Powell but water levels have since retreated and the river has returned.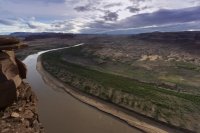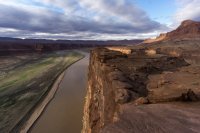 I stopped a few times to take in the landscape and snap some pictures. The picture below was taken on a bridge that crossed high above the Dirty Devil River.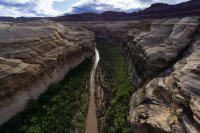 After driving through the GCNRA, I eventually drove through the White Canyon area which looked like it would be a really cool place to explore as well, but at this point, I needed to head to the Needles and get my hike underway. After stopping in Blanding for gas (and made the odd discovery that the gas station mini mart sported a bowling alley in the back), I made my way towards the Needles trailhead but made one final stop at Newspaper Rock to see the Petroglyphs.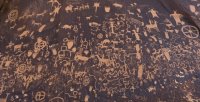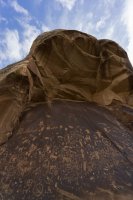 When I finally arrived at the Needles, I entered from the Squaw Flat trailhead. My route for day 1 was to hike up Big Spring Canyon then hike down Squaw Canyon then take the Peekaboo Trail east to campsite LC1. I loved how varied the trail was in the Needles. I thought it was interesting how the trail often followed the path that water would normally follow if it were to flood such as the dryfall below. This made sense when I thought about it. After all, water and hikers have something in common, they both tend to follow the path of least resistance.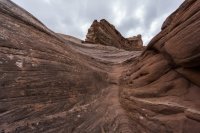 Big Spring Canyon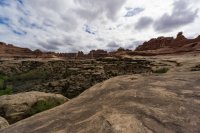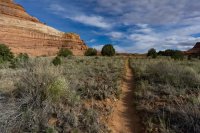 Crossing over from Big Spring Canyon to Squaw Canyon.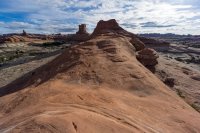 LC1 was my least favorite campsite in the Needles. It was flat and private but didn't offer any views. By the time I got there I was pretty pooped from the combination of air travel, driving, and hiking. I don't know remember what time I fell asleep but it was probably before 7 pm and I still slept in late the next morning.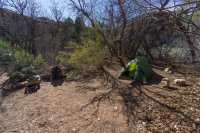 The next day my route was to hike down Lost Canyon to the EC2 campsite in Elephant Canyon. I thought Lost Canyon was particularly beautiful and was full of interesting rock formations and color variation.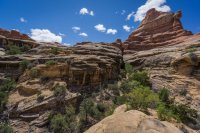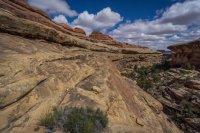 This picture below is where I climbed out of Lost Canyon. I sat and ate a snack and when a group of hikers passed by in the opposite direction and were dropping into Lost Canyon, I took a picture of them to capture a sense of scale. However the scene that lay before me was on such a grand scale, they are nearly impossible to see. Do you see them in the picture below?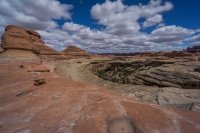 In order to see them, I'll zoom into the highlighted square below...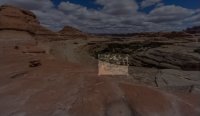 And here's the blown up image of the highlighted square so you can see them.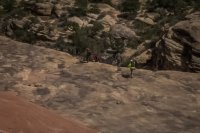 The other side of the pass and a sea of slickrock waves and ripples.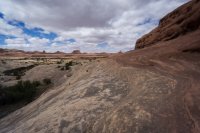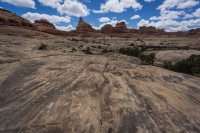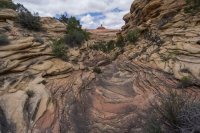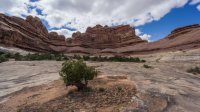 I had to squeeze through a narrow space to cross into Elephant Canyon.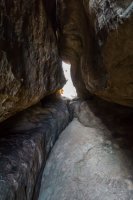 Below is a picture of my first view into Elephant Canyon taken from the opening in the picture above.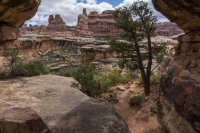 Every canyon that I dropped into became my new favorite. Elephant Canyon was just spectacular.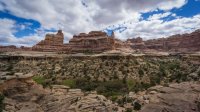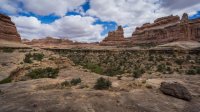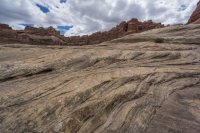 A dryfall that you need to descend when dropping into Elephant Canyon.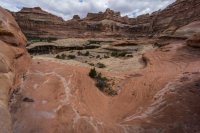 Some shots looking back up at the steep slickrock I had just descended. This would have been tricky if it had been wet out.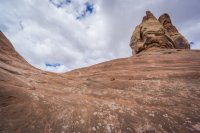 I quickly fell in love with all of the lines, textures, and color variations of the slickrock in Elephant Canyon.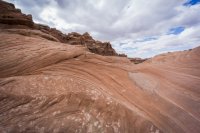 Bizarre shapes abounded everywhere.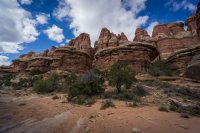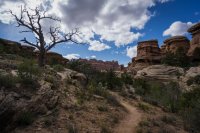 I seriously felt like I was walking on a different planet at times.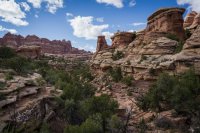 I finally made it to campsite EC2 which was a really sweet spot which became even sweeter when I unzipped my tent the next morning to nice sunrise lighting up the canyon walls, but that's where I'll start Part 2. I'll end Part 1 here with some shots of EC2 before I hit the sack. My tent really blends in well with the bushes.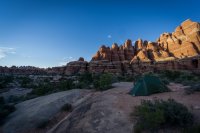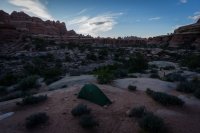 To be continued...
Last edited: