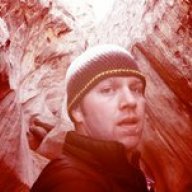 ^^^^^^^^^^^^^^^^^^^^^^^^^^^^^^^^^^^^
Joined

Jan 18, 2012
Messages

464
(Note: I had some other great pictures at a specific location on Day 2, but a "friendly" call 3.5 years after this trip from the park ranger at Canyonlands had convinced me to pull them down and I would only get off with a warning and no fine, only to eventually get a fine in the mail because I had some wording in this post somewhere about how cool it would be to see Tower Ruin up closer. Word to the warning, don't mention how you want to see something closer in a NP because they'll fine your ass)
I'm going to post various pictures from the trip, but click
HERE
for all the pictures from this trip.
Day 1
We left early morning on a Thursday (May 1st) and met up at my parents house with my brother
Jeff
and his wife Mandi. A lot of the drive down was our usual route when we head out to the desert to camp/explore. We drove through Moab, which I had only been to once before when we did our
Arches trip
a couple of years prior. From Moab, we continued south, which is a place in this state I had never been. I loved this drive down into Canyonlands. Canyonlands itself is divided into 4 separate sections, with Horseshoe Canyon and the Maze being on the West side of the Colorado/Green rivers and Island in the Sky and Needles being on the West side (although Island in the Sky is actually West of the Colorado and East of the Green, which is why it's called "island" in the sky). Each of these sections of this national park require a separate road to get to them (they don't connect with each other via a normal road). As I said before, once we started heading into the Needles district, the drive in was breathtaking. Just a beautiful canyon you drive into to get there. There was a nice river/creek along side us as we drove, plenty of groves/shade trees, and even some farm houses. I could explore that area forever.
When we got to the park, we checked to see if the campgrounds were full (they were), so we headed back to this area about 5 miles outside of the park called the Lockhart campground. Here is a map of where we camped. If you look at the satellite view, you can see that we camped right up against some rock formations that were fun for the kids to play on. The site was perfect.
So, we got camp set up and just chilled for that day.
Here's some pictures from the camp and the drive into the area.
The drive in was surrounded with trees like this. In the distance you can see a grove of trees of which a beautiful creek ran through.
Our campsite from above
Our campsite
Day 2
On this day we got up a little early and packed up for 1 of our 2 big hikes to Paul Bunyan's Potty. The hike to this area is basically a big wash and it's registered as a 4x4 trail, but only when they are able to clear the wash from previous flash-flooding, which makes it impossible to drive. It's been a couple of years since they had cleared it, but we were hoping it would be cleared when we were there so we could take the truck down some of the way. Unfortunately it wasn't, but it still made for a good hike. The creek itself (salt creek) had water running through it and the trail passed back and forth and sometimes right through it the whole way down, so we spent a lot of time just wading through it. There weren't really any deep spots, maybe only 6" at the lowest areas. The boys seemed to love it at first, but after hiking a while, it gets quite annoying. The trail splits off as salt creek headed in another direction south, and we went more south-east down Horse Canyon which is where we wanted to be.
We arrived at Paul Bunyan's potty and took a break to eat our lunch and just chill for a bit. This is an awesome arch with a great view.
We headed on down the wash, which was much more exposed to the sun and very sandy, another mile or so to Tower Ruin. It was actually on a whim that we decided to take this barely noticeable trail off of Horse Canyon, that lead us down to Tower Ruin. Kind of sucks for anyone doing this without a good map, or without a GPS. As we hiked down the trail, I had no idea if we were going in the right direction and it was frustrating, but finally we saw the trail end at a tiny sign that said "tower ruin". This ruin was quite spectacular and featured original wood used for support of the structure. Hiking up close to it and looking out away from it was awesome.
The over-all hike was around 11 miles round trip. It was tougher because you were treking through sand at times. The last 2-3 miles back were really hard on Caiden. The poor kid kept hope that we were only 1/2 mile from the truck most of that time. On the last stretch to the truck (about 1/2 mile) I really pushed him to complete the hike himself. When we were within a few hundred yards from the truck, we did a light jog. When we finally arrived Caiden was out of breath and just started to cry. I think he was crying from being so tired, but also from being so happy to be back at the truck. I thought for sure he would pass out when we got back to camp, but by the time we got there, the kids were out and running around on all the rocks. I tried to sleep a bit with Alene, but I was too distracted, so I set up a small rappel with the new ropes and harness I bought. I taught my nephews, Brady and Ryan, how to rappel. Caiden attempted it, but got a little scared in trusting me to lean back.
Here are some pictures from that day.
The boys walking up Salt Creek
The trail splits here
We arrive
Paul Bunyan's Potty
The view looking down the trail from Paul Bunyan's Potty.
Tower Ruins. If you look up behind Alene, they're in that small dark spot.
Tower Ruins
The distance up to Tower Ruins
The Tower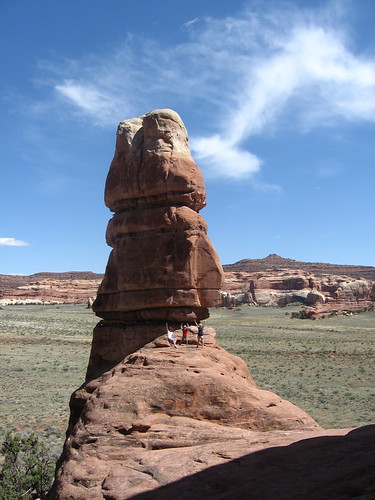 Getting in a little meditation on the tower
Brady rappelling down at Lockhart campground
Another shot of Brady rappelling down. I liked this one so much that I used it for my banner.
Jeff rappelling
Tyler rappelling
Day 3
On this day we had planned to hike to Druid Arch, which is a funky non-traditional arch that was more squared off and the pillars leading to the top were similar to the ruins at Easter Island where the druids lived (hence the name: "Druid" arch). This hike was listed as the same distance as the hike we did the day before. We were really nervous about how Caiden would do on it, but once we found that the terrain was much different than the previous day, it was actually quite easy.
This was a hike I'd definitely recommend to everyone coming here. It had some amazing change in landscape and scenery as we went through it. You are hiking up a wash, but hardly any of it is sandy, mostly rocky. It's loaded with all kinds of trees and vegetation. I'd be careful to watch for all the signs because there are about 3-5 intersecting trails that take you to other hikes. One of my favorite parts of the hike are closer to getting to Druid arch. There are some giant pools that look like they would be nice to jump into, but being warned from Bill before, most of these potholes are filled with fecal matter from animals, dead animals and old debris. Being that Druid arch is so giant, I was also surprised to find that you don't really notice it until you're pretty much RIGHT THERE. I mean, once you walk away and look back, you can see what you're looking at, but your approach is really from the side of it, so you don't see the arch, just a huge tower-looking rock structure. There is also a little scramble required to make your way up to the arch for good pictures and such.
When we arrived at the arch, we had lunch there and sat in the shade to take in the view from up high. It was really nice looking back down-canyon from where we came.
Here are some pictures from that hike:
Looking back North East at the La Sal Mountains (toward Moab)
The trail hiking in
Narrow section on the hike
The hike in
Rock fingers
Awesome dry fall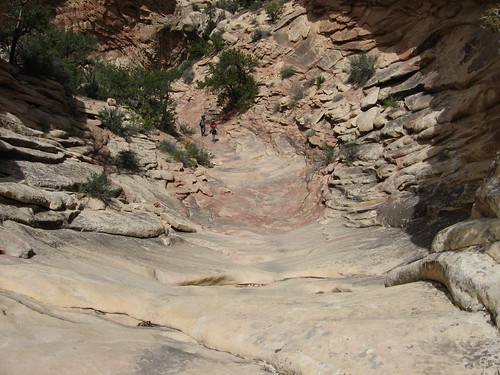 Druid Arch
Looking back to where we came from (we are under Druid Arch in this picture; Jeff hanging out across the little crevice below us)
The family at Druid Arch
Day 4
Nothing much planned this day. We basically broke down camp and headed out. On our way out we did two things: Shoot my gun and visit Newspaper rock, which is this GIANT slab of rock that both ancient and recent people have added their mark to
(note: we did not shoot our guns on NP property, nor anywhere near Newspaper Rock).
Here are some pictures of us shooting (yeah, I know, really exciting):
Here are some pictures of newspaper rock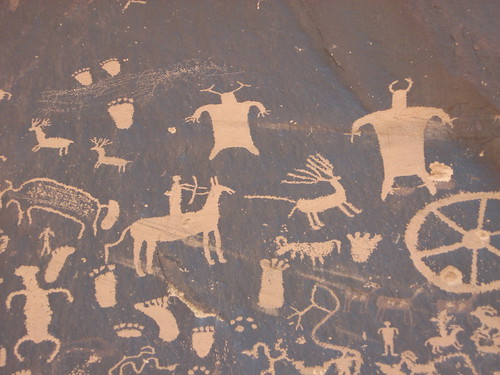 After visiting Newspaper rock Alene, Caiden and I headed back to Moab to check into a hotel and relax. Jeff and Mandi took the two nephews back home as they had to be back for work/school. We ate at the Moab Brewery, which was very good.
All in all it was a great trip. As I always end my trip reports: I want to go back. It's so over-whelming how much there is to explore out there. Besides the hikes we did, there 20+ other hikes in that area that would be fun to do. Someday I want to visit the Maze, which is the most un-visited of all the sections of Canyonlands.