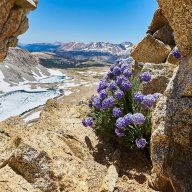 Joined

May 16, 2016
Messages

998
8/25/17
Dayhike somewhere in the Daniel Boone National Forest
I got to the trailhead and the temperature was 65, the forecast was for sunny and upper 70s. A perfect day for a creek hike.
The whole day I was thinking how nice this area is compared to the RRG. There was very little trash and even the couple fire rings did not have garbage in them. I would hate for this area to become a "destination" like the Gorge, so I am not going to mention it by name.
All cell phone pics, I wish I had my camera but I was worried about all the water.
Not many flowers today.
Not a flower, but still pretty
A small waterfall just off the trail
A much larger waterfall and a great place for lunch. I saw a biker here, he was in the process of lugging his bike up the trail and was planning on riding some of the forest roads up on the ridges.
I took the creek back to the car instead of retracing my path on the trail. I had heard good things about this creek hike and was really looking forward to it. Most of the creek was ankle to calf deep, but there were parts where it was up to my crotch. I was glad I was doing this hike in August and not in March.
There were lots of rock houses...
... and cliffs ...
... and waterfalls (this was the biggest, about 50 feet tall) ...
...smaller waterfalls (this was about 5 feet tall) ...
...and lots of little trickles ...
... and only one snake. This one was small enough that I though it was a big worm at first, still don't like snakes.
This was a great way to spend a couple of hours. Now, I need to go back with my camera and tripod.